Bouygues UK wins first construction contract from Gascoigne Estate regneration masterplan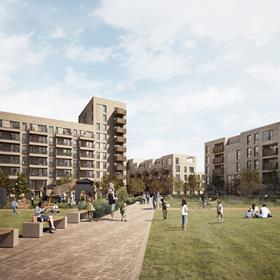 East Thames and the London Borough of Barking and Dagenham (LBBD) have awarded the first construction contract for the regeneration of the eastern end Gascoigne Estate in Barking to Bouygues UK.
The £41.5m contract will see Bouygues UK construct the first 190 homes as part of Phase One of the project and an energy centre.
John Campion, Bouygues UK managing director for housing London, said the firm had a strong relationship with the council having worked on the mixed-use scheme on London Road and the Creative Ice House Quarter development at Abbey Road for them.
He added "we're very happy to be working with East Thames and LBBD as part of the overall masterplan to regenerate Gascoigne Estate, as well as increasing our contribution to the wider regeneration of the borough as a whole."
East Thames and LBBD are renewing the eastern end of the Gascoigne Estate in Barking, sharing the responsibility for funding, design, construction and maintenance.
The Gascoigne East Masterplan designed by Levitt Bernstein and Allies & Morrison plans to create 1,575 new homes, a secondary and primary school, green spaces and community centre over the next nine years. The first new homes will be available by 2018, ranging from one to four bedrooms, and will be available through affordable rent, shared ownership and private sale.
Darren Rodwell, leader of Barking and Dagenham Council, said the council was determined to grow the borough "to meet not just the needs of our residents, but also our ambition to meet London's housing needs".