Bovis Homes has posted bumper results, with revenue up by a third and profit up by nearly 50%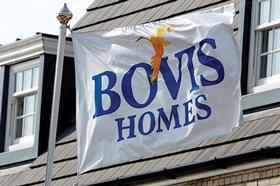 Reporting its results for the year to 31 December 2013, the housebuilder posted a 31% jump in revenue to £556m, with pre-tax profit up 48% to £79m.
The firm's operating profit rise 46% to £83m.
Bovis said it completed 2,813 homes over the period, up 19% from 2,355 over 2012, with a 14% increase in the average selling price, up from £170k to £195k, which it said was "primarily due to mix of larger homes and a greater proportion of higher value southern sites".
Bovis said it planned to add two more regional bases to its six current operational centres, which would raise business capacity to 5,000 homes per year.
Bovis Homes chief executive David Ritchie said described the performance as "excellent".
He said he expected rising supply chain costs to be more than offset by rising house prices and increasing market activity.
"A rigorous focus on targeted land acquisition, together with tight management of costs and capital have enabled the Group to take full advantage of the more favourable market conditions to increase volumes, improve sales prices and strengthen margins," he said.
"The Group is focused on delivering further improvements in shareholder returns through material growth in profits and capital turn.
"The housing market is recovering with higher activity levels and improving house prices expected to more than compensate for supply chain cost increases.
"This positive market is acting as a welcome backdrop for the Group's continued successful execution of its growth strategy.
"With the current strong sales position and assuming current market conditions continue, the Group is confident of its ability to deliver strong increases in volume, revenue and profit in 2014 with the aim of achieving a return on capital employed for the year of at least 14%."