Think tank plans voluntary standard following government decision to axe Code for Sustainable Homes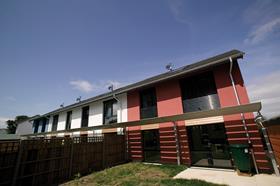 Housebuyers will be able to assess the savings provided by eco-features on new build properties as part of a voluntary sustainability standard being drawn up by BRE aimed at driving green housing up the agenda.
The built environment think tank launched a consultation this week on the scope of the voluntary standard, which will apply to new build housing.
The new standard will form part of the existing suite of BREEAM measures for measuring and certifying the sustainability of property.
BRE's decision to introduce the standard follows the government's decision to axe the mandatory Code for Sustainable Homes and wrap up many of its benchmarks into the Building Regulations.
The voluntary standard will embrace a wider range of sustainability measures than the benchmarks outlined in the Building Regulations and those likely to be contained in the zero carbon standard

Gavin Dunn, BRE
Besides energy and water performance, Gavin Dunn, director of BREEAM at BRE, said it could cover issues like resilience to adverse and extreme weather conditions such as flooding; the health and well being of occupants; resource efficiency; and biodiversity.
Dunn said the first key aim of the new measure was to drive up housing sustainability standards by providing those developers who wish to go beyond minimum regulations with an opportunity to differentiate their products.
It is also designed to give consumers the tools to compare the sustainability performance of properties built to different standards.
Dunn said prospective home purchasers could use the standard to directly compare how much it costs to run homes which they are considering buying with other properties on issues such as energy and water consumption.
"This will enable them to make that real comparison, hopefully at the point of sale," he said, adding that feedback from the industry had so far been positive.
"We have had a very positive response from some of the big name builders who say that, because they are building these homes anyway, they want the tools to sell them to the consumer."
The standard also aims to tackle shortfalls in performance, ensuring homes are performing as designed and, if not, to recommend a course of action the homeowner can take.
BRE will be seeking feedback on the scope of the new standard until 25 July 2014. After this date, it will hold a separate consultation on the technical detail in the new standard, which is pencilled in for a formal launch at next year's Ecobuild event in the spring.
BRE operated the EcoHomes standard for new build dwellings until it was superseded by the introduction of the Code for Sustainable Homes by the previous Labour government.