Eric Pickles overturns local planning decision to give the go ahead for 100 homes on BRE's Watford site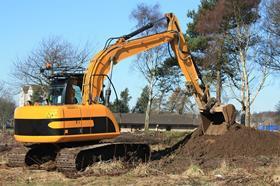 Eric Pickles has approved a controversial housing development by sustainability body BRE that was rejected by the local planning authority due to a "lack of sustainability".
Yesterday, communities secretary Eric Pickles approved the plans to build up to 100 sustainable homes on the northern part of BRE's headquarters site in Bricket Wood, Watford.
BRE has been trying to build homes on its Bricket Wood site for over a decade. It had an application for development turned down by the secretary of state in 2001 amid concerns over transportation, and withdrew another application in July 2012 for similar reasons.
A third application was turned down by St Albans council's planning committee in May 2013 despite council officers recommending the scheme should be approved.
At the time Geoff Turner, chair of the planning committee, said there was a "lack of sustainability" in the plans. He said: "The committee thought that the site didn't perform well against sustainability criteria. It would put a lot more pressure on schools and create more traffic."
But BRE appealed the local planning decision, which has now been overturned.
The houses will be built on the northern part of the BRE's site, currently occupied by a number of commercial buildings.
Peter Bonfield, chief executive of the BRE, said he was "pleased" with the decision.
He said: "We are committed to delivering an exemplary development that we can be proud of that will benefit the new residents and the local community in general. We look forward to working with local stakeholders to enable these outcomes."
The BRE plans to use the money generated for the development to upgrade its research and testing facilities and contribute to its pension fund.