Work expected to start on site of new town centre in early 2018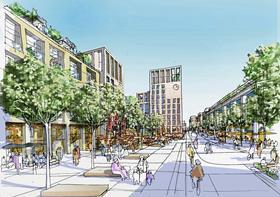 Barnet Council has finalised its joint venture with Argent Related, paving the way for construction to start on the 180-acre Brent Cross South regneneration scheme in 2018.
The new development will sit alongside Hammerson and Standard Life Investments' redevelopment of Brent Cross shopping centre, connected via a new pedestrian bridge across the North Circular.
The news follows Chancellor George Osborne's confirmation in the Budget this week that the government will release a £97m grant to contribute towards the cost of a new Thameslink Station to support the new town centre scheme. The station will also be part-funded through a business rates contribution from the Greater London Authority.
Councillor Richard Cornelius, leader of Barnet Council, said: "By joining forces with our development partners we are making sure we get the best deal for the taxpayer as well as creating a thriving London neighbourhood which will become a model for the 21st century and beyond.
"The fast rail link into Kings Cross will play a vital part in the development of the area, and Wednesday's Budget announcement is confirmation that we have now secured the investment we need to support the transformation of the area."
Kenneth P. Wong, joint chief executive of Argent Related and chief operating officer and director of International Development of Related Companies, said the company was pleased to be able to move the development forward.
David Partridge, joint CEO of Argent Related and Managing Partner of Argent, said, "Brent Cross South is an opportunity for us to breathe new life into an important part of London, by delivering new public spaces, amenities, homes and offices for existing and new communities."
Hammerson and Standard Life Investments also welcomed the news as a "positive step" forward.
The Brent Cross South masterplan was approved in October 2010 and revised in 2014. It includes 6,700 homes, workspaces for over 25,000 new jobs, a new high street, public spaces and the new station.