The proposal, which has already prompted the resigntion of two senior cabinet ministers, could cause "an unprecedented skills deficit"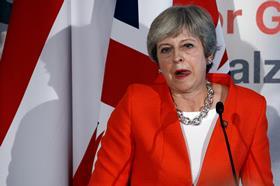 Theresa May's proposed Brexit plan could be devastating for the construction sector, according to industry bigwigs.
Scape Group chief executive Mark Robinson has slammed the government's proposed withdrawal agreement, which yesterday prompted the resignation of two senior cabinet ministers including Brexit secretary Dominic Raab, saying its underlying message was a continued "lack of clarity".
He said: "One thing is certain the introduction of a new skilled-based immigration system which is based not on the country people come from, but on what they can bring to the UK, will be disastrous for the construction industry.
"As it stands construction site trades are officially classified as low-skilled jobs and under current policy it is not possible for non-EEA workers to obtain a work permit for low-skilled employment.
"The ONS (Office for National Statistics) thererecently revealed that in the countdown to Brexit the number of workers in the UK from the former Soviet bloc countries fell by 154,000 in the past year. We cannot afford to keep haemorrhaging workers in this way. The draft agreement has done nothing to ease uncertainty for migrant workers."
Robinson said ending the free access to labour could cause "an unprecedented skills deficit and an inability to deliver essential infrastructure projects".
"The construction trades require specific and detailed knowledge and it is a classification that is as arbitrary as it is unhelpful and is hugely damaging to addressing the skills gap in the UK."
"We need clarity right now and not a sustained period of apprehension and unpredictability," he added.
Brian Berry, chief executive of the Federation of Master Builders, was slightly more upbeat about the proposal, saying that there were some positives for the sector.
He said: "On the positive side, the draft deal would avoid a hard border between Northern Ireland and the Republic of Ireland.
"Our recent research shows that nearly half of construction SMEs in Northern Ireland think a hard border would have a negative impact on their ability to purchase products and materials and hire people from the Republic."