French giant says sterling's fall to blame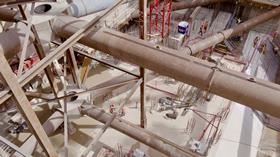 Bouygues has said Brexit has hit it for €132m (£116m).
The French construction to telecoms giant said the fall in sterling had cost it when its sales in the UK where converted to euros.
Turnover at its UK business – which is working on a delayed £190m cancer centre (pictured) for UCLH hospital off London's Tottenham Court Road – in the year to December 2017 was £1.64bn, up from 2016's £1.63bn.
The firm's overall construction business saw revenue increase 3% to €25.8bn (£22.7bn) with operating profit coming in at €948m (£839m), up €69m (£60m). Margins at its construction arm rose from 0.2% to 3.7%.
Group revenue at the firm, which includes the French TF1 TV channel, the most popular in the country, along with its telecoms arm, was up 4% to €32.9bn (£29.1bn). Operating profit rose 62% to €1.5bn (£1.3bn).