Schemes in doubt include 40 Leadenhall and 22 Bishopsgate, as investors reconsider their stakes in property and development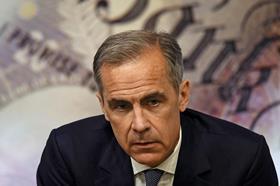 Developers and construction firms exposed to London's commercial sector are starting to count the cost of Brexit, with pipelines under review and investors starting to pull funding.
Schemes thrown into doubt include TH Real Estate's 40 Leadenhall office complex, commonly known as "Gotham City", Axa and Lipton Rogers' 22 Bishopsgate skyscraper, UOL Group's 150 Bishopsgate hotel tower, and two Crown Estate projects.
Investors also started to cool on commercial property this week, with Standard Life, Aviva and M&G Real Estate all suspending trading on their multi-billion pound UK property funds after a rush of withdrawals from investors.
One of Singapore's largest lenders, the United Overseas Bank, also suspended its loan programme for London properties last Friday.
The wider turmoil prompted Bank of England governor Mark Carney (pictured) to reassure investors on Tuesday he was ready to pump money in to the economy, including an extra £150bn of lending, as he warned Brexit risks were starting to "crystallise".
In London, industry experts told Building commercial clients were reviewing their pipelines post-Brexit and office developers were more likely to seek pre-lets rather than starting schemes speculatively.
TH Real Estate admitted its Make-designed 40 Leadenhall scheme would no longer be developed speculatively and now needed a pre-let to fully progress.
A TH Real Estate spokesperson said: "Sentiment remains to progress the scheme, subject to the pre-letting of sufficient space to support our business plan."
The 910,000ft2 project is set to be built by Mace, while Arcadis is QS and WSP Parsons Brinckerhoff is structural, M&E and sustainability engineer. Gareth Lewis, Mace's chief operating officer, said: "Work on 40 Leadenhall continues with Mace supporting TH Real Estate to progress the scheme in line with their development objectives."
Meanwhile Axa said it was "committed" to its PLP-designed 22 Bishopsgate tower job, but admitted it was "considering its options" for the scheme following the referendum result.
Brexit also casts further doubt on UOL Group's 150 Bishopsgate hotel, which was already on hold prior to the vote while the Singaporean developer reviews its procurement strategy after shortlisting Mace and Bouygues earlier this year.
The Crown Estate admitted it was reviewing two London developments – Morley House and Duke's Court.
However, in better news, Building understands Balfour Beatty this week began negotiations with Wanda One, the Chinese developer behind the One Nine Elms twin-tower development, about taking on the main contractor role on the scheme, as tipped last month.
Tony Giddings, a former Argent director who helped mastermind the regeneration of King's Cross in north London, told Building, in a full interview to be published next week: "A lot of people are waiting to see how things go with the dollar and the pound at the moment.
"A weak pound might attract investment in - but I do think generally that new developments which haven't got pre-lets are going to think twice about moving on commercially."
An online poll of 309 readers of Building.co.uk last week found 59% thought Brexit would have a negative long-term effect on UK construction, with 30% disagreeing and 11% undecided.
The construction industry turned in its weakest performance since 2009 in June, as uncertainty in the lead up to the referendum took hold, according to the latest survey of construction buyers.