Building's news desk examines what the Leave vote will mean for five key areas of construction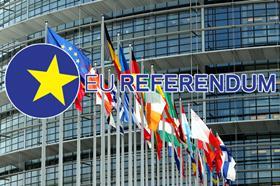 Housing
There was no question investors had delivered their verdict on the housing market by Tuesday lunchtime. Listed housebuilders were hit hard on the London Stock Exchange last Friday and Monday following the vote - with prices down on average 18% on Friday, then 15% further on Monday - although they were rallying a few single-digit percentage points on Tuesday. This is because experts are predicting a drop in house prices and transactions in the uncertain months to come. JLL and KPMG are predicting around a 5% drop this year and next.
Tony Williams, analyst at Building Value, said he'd "never seen anything like this" and the share price reaction suggested a "catastrophic" shock was in store for the housing market. But in reality, while Williams expects a slowdown, he said the underlying dynamics were better than the stock market reaction suggested due to chronic under-supply of homes in the UK, a sentiment backed up by Redrow in a trading statement designed to reassure its jittery investors on Tuesday. On a brighter note, the devaluation of the pound could actually attract foreign buyers to buy bargain property, particularly in London.
Infrastructure
HS2 and airport expansion in the South-east could be the two biggest infrastructure casualties from a Brexit. This week a Birmingham MP, Liam Byrne, warned HS2 - already behind schedule and over budget according to the National Audit Office (see previous page) - could be the first project to go if the economy crashes and the Treasury's finances are hit. Meanwhile, Tory leadership frontrunner Boris Johnson is a strong opponent of Heathrow expansion, a programme that would have been swiftly approved by government this summer if the referendum had gone the other way.
Some commentators have also questioned whether the Hinkley Point C nuclear power plant in Somerset – planned by French state-owned energy giant EDF – could also be under threat after the UK exits the EU. A market source close to the project told Building EDF has reiterated its public message to the market that Hinkley is not under threat because of the vote to Leave. But the source added: "The project is still questionable … if there's ever a time for EDF to pull out, it's now." Industry figures have also warned a slowdown in government infrastructure spending and decision-making could have a knock-on effect on the commercial sector. Paul Dyson, head of UK program advisory services for consultant Hill International, told Building firms will stop investing in the UK if the government stops its investment.
He said: "If you're a hotel chain setting up in London, for example, it's easier for people to move around and travel if there's investment in infrastructure. But if the government stops investing, then they will say 'well, why should we invest?'."
Commercial
Firms involved in commercial schemes face a nervous wait as developers digest the implications of last week's Brexit vote. Industry leaders say clients are seeking fresh advice on the viability of schemes, but there were few reports of schemes actually going on hold or being cancelled when Building went to press on Tuesday.
In London in particular, all eyes are on the financial services firms. At the start of the week some banks were starting to execute plans to move thousands of London-based staff trading in Euros to financial centres on the continent such as Frankfurt or Paris, but there are few suggestions at this stage of an exodus. Kamran Moazami, a London-based director and tall building engineer at WSP Parsons Brinckerhoff, said despite the shock, London still had a bright future as it would remain "capital of the world" and many of its investors were from China and the Middle East, rather than Europe.
Ann Bentley, global chair of consultant RLB, said she expected a "judder" in the capital's commercial market, but expected a bigger impact in second-tier cities such as Manchester, where overseas investors may be deterred.
Regional investment
EU funding for regional infrastructure and regeneration projects is in doubt after the referendum result. According to the Local Government Association, about £5.3bn of funding in England alone is at risk. The funding is divided between local enterprise partnerships to drive regeneration projects, while money is also set aside for infrastructure improvements, mainly road upgrades.
Matthew Lugg, vice-president of the Chartered Institute of Highways and Transport, says local road maintenance budgets could be hit the most. The £500m Wales receives from the EU each year is also in doubt. Improvement works to the A55 in the north and A40 in the south of Wales – worth a combined £300m and supplemented with £85m in EU funds – are now considered at risk, while the future of the South Wales Metro is also in jeopardy.
The £2bn metro project, which would integrate rail lines across the south of Wales and allow easier access from the regions to Cardiff, was set to receive a £150m boost from the EU. Carwyn Jones, the Welsh government's first minister, has said there are "hundreds of vital EU-funded projects right across Wales whose future is now in the balance".
Sustainability
The government's sustainability agenda is also clouded in uncertainty after the UK's vote to leave the EU. The UK's main energy efficiency policy came from the EU's Energy Performance of Buildings Directive (EPBD), which requires all new buildings to be nearly zero-energy buildings (NZEB) from 2021. Meanwhile the Birds Directive and Habitat Directive are among the laws which safeguard against potentially environmentally damaging developments.
Speaking to Building in the run-up to the referendum, energy minister Andrea Leadsom – a high-profile Leave campaigner – defended the government's decision to scrap its zero-carbon homes policy, citing the remaining EPBD target. But Richard Twinn, policy adviser at the UKGBC, said it was "unlikely" the target would be kept. He said: "The government may well not decide to have NZEBs as nothing exists in UK legislation saying it has to meet that target." Twinn added that the government's only binding sustainability commitment is a requirement in the Housing and Planning Act for the secretary of state to "undertake a review" of energy efficiency measures, with no actual action required by UK law.