Developer buys stake in three buildings and mixed-use development site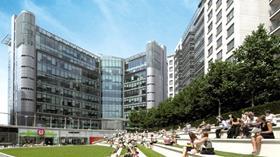 British Land has acquired a majority stake in the Paddington Central business district from Aviva Investors.
The developer has bought a stake in three office buildings and a mixed-use development site. On completion of the developments British Land will own one million sq ft of the 1.6 million sq ft estate.
The Paddington Central business district is situated behind Paddington station. The area is set for a boost with the opening of a Crossrail station there in 2018.
Chris Grigg, chief executive of British Land said: "We are delighted to have bought into Paddington Central.
"It is an investment which plays to our asset management and development strengths, is in line with our strategy of increasing exposure to London and replenishing the development pipeline, and one we expect to generate strong returns.
"This is the most significant acquisition we have made since the equity placing in March and we are confident that investment of those proceeds will now be accretive to 2014 earnings, ahead of our original objective."
Tim Roberts, head of offices for British Land, said: "Managing and developing large estates in London is what we do well.
"With the benefit of improving local infrastructure, the regeneration of Paddington as a whole, plus our ability to improve and complete the estate, I am confident we can take Paddington Central to the next level and in the process, deliver attractive returns."