Developer announces pipeline update and strong half-year results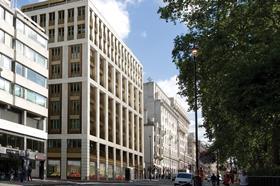 British Land has announced a two-year development push worth £478m to build 1 million ft2 of schemes.
The push includes plans to start construction on two schemes worth £412m covering 700,000ft2 within two years, at newly-aquired Paddington Central and the Shoreditch Estate, subject to securing planning permission.
The developer also plans to start work on three schemes before the end of the year where it has already won planning permission – 600,000ft2 at Clarges Estate (pictured), The Hempel and Aldgate Place.
British Land said it will continue to replenish its development pipeline. The firm said: "Given the ongoing shortage of high quality space and reduced speculative space coming on stream, we believe we can continue to make attractive risk adjusted returns from development over the coming years, particularly in London.
"We have therefore been focusing on replenishing our pipeline of developments, primarily through acquisitions."
British Land announced the pipeline update as it posted strong half-year results for the six months to 30 September 2013, including a 6.6% increase in underlying pre-tax profit to £146m, up from £137m the previous year.
Chris Grigg, chief executive said: "Our business is in good shape as evidenced by our good first half results and we are executing smartly, with conviction and according to plan.
"We expect to benefit from the decisions we have made over the last few years to reshape our portfolio which have increased our exposure to London and the South East; replenished our development pipeline; and further focused our retail portfolio on the best locally dominant assets.
"All of these decisions have positioned us well both for stronger profit growth and total returns."