Report for Carbon Disclosure Project recognises firms who are open about carbon emissions and take action to mitigate climate change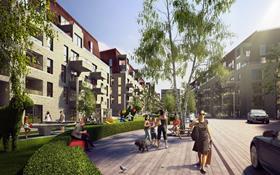 Contractor Morgan Sindall and developer British Land have been ranked among the top echelon of businesses that are the most open about their carbon emissions.
The performance of the firms was contained in a report for the Carbon Disclosure Project (CDP) and the Department for Environment, Food and Rural Affairs, compiled by accountant PWC, which scores businesses on how comprehensive a disclosure they give about their carbon footprint.
The report also ranks firms on a performance measure, which assesses the actions they are taking to mitigate climate change.
The CDP, which has been running for 10 years, aims to give investors an idea of the sustainability credentials of firms.
The report gave Morgan Sindall a score of 91% for disclosure, while British Land scored 98%, putting them in the top echelon of businesses.
Meanwhile, Costain and British Land scored well in the performance measure, with both awarded an A grade, while Morgan Sindall achieved a B.
Brian Handcock, head of sustainability for Morgan Sindall Group, said achieving a good rating was about "integrating our sustainability targets into how we do business".
He added: "Through demonstrating that we are serious about managing carbon emissions from our own business perspective, we hope to demonstrate to our customers that we will be equally serious working with them to ensure their own emissions are as low as practicable."
Justin Snoxall, head of the business group at British Land, said the firm had reduced its own emissions by 38% in the past four years.
He added: "There is scope to go further on performance. On our existing assets we believe that we can drive further scope one and two [direct and indirect emissions] reductions.
"The challenge however will be where we acquire new assets, this might impact our overall scope one and two emissions, since this is an absolute measure."
Carbon Disclosure Project scores 2013
| | | |
| --- | --- | --- |
| | Disclosure scores | Performance score |
| British Land | 98 | A |
| Morgan Sindall | 91 | B |
| Derwent | 89 | C |
| Land Sec | 88 | B |
| travis Perkins | 88 | B |
| Balfour Beatty | 87 | B |
| Carillion | 86 | B |
| Interserve | 86 | C |
| Costain | 84 | A |
| Atkins | 84 | B |
| Great Portland Estates | 81 | C |
| Kier | 81 | C |
| Wolseley | 80 | B |
| Berkley | 78 | C |
| Amec | 75 | C |
| Taylor Wimpey | 75 | D |
| Galliford Try | 73 | B |
| Persimmon | 71 | C |
| Workspace | 70 | D |
| Hammerson | 67 | C |
| Redrow | 66 | D |
| Helical Bar | 63 | D |
| Bellway | 61 | D |
| Bovis | 60 | D |
| SIG | 60 | D |
| Hyder | 58 | D |
| John Laing Infrastructure | 49 | |
| Quintain | 10 | |
| | | |