Hopkins-designed extension of 100 Liverpool Street submitted for planning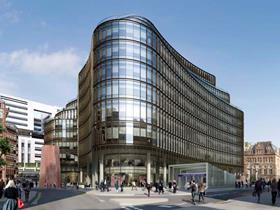 Developer British Land and Singapore wealth fund GIC have submitted a detailed planning application for the refurbishment and extension of 100 Liverpool Street, part of the Broadgate development in the City of London.
Designed by Hopkins Architects, the proposal will add a further three floors, comprising 135,000ft2, to the building, while the ninth floor will include a restaurant with external terracing. The structural frame will be retained but a gently curving facade will give the building a new identity.
The plan also includes retail units and improves the connections and public space between 100 Liverpool Street, Liverpool Street station and the Broadgate Circle. One of the proposed entrances to the new Crossrail station is also located within the 100 Liverpool Street boundary.
This scheme forms part of British Land and GIC's long-term plan for the wider Broadgate development. As part of this, 5 Broadgate is under construction and the Broadgate Circle is being redeveloped, with both expected to be completed within the next few months.
Tim Roberts, head of offices at British Land, said: "This is an important part of our broader plan to reposition Broadgate to meet the changing needs of a growing and dynamic market place. The demands on this area of the City are changing with the regeneration of nearby Shoreditch and we are focused on evolving the Broadgate campus to match these needs."
100 Liverpool Street is due to be vacated by current tenant UBS in 2016.