Construction on Northumberland scheme was recently halted
A car battery gigafactory in Northumberland will not begin manufacturing products until mid-2025, more than a year later than initially planned.
The chief executive of electric vehicle battery start-up Britishvolt revealed production plans for the Cambois facility, a flagship project for Boris Johnson's levelling up policy, had been pushed back.
The announcement comes weeks after contractor ISG paused construction on the 95ha scheme, which had begun last summer.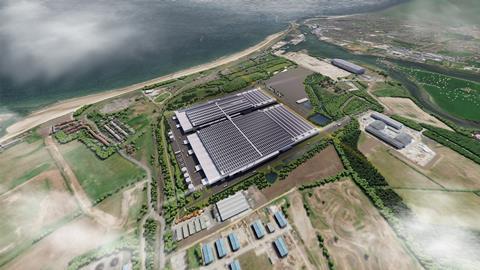 Orral Nadjari, who helped establish Britishvolt three years ago and is its largest shareholder, told the Financial Times that "the main facility will be delayed slightly into mid-2025".
It had initially been anticipated that battery production would begin in late 2023.
Nadjari, who recently stepped down as the firm's chief executive, added: "It does go hand-in-hand with the fact that we have inflation, we have recession and we have geopolitical uncertainties."
When construction was paused earlier this month, it was reported that new funding and key power supply infrastructure needed to be secured before the project could proceed.
An ISG spokesperson said at the time that it was "pausing works on-site while the design is finalised and remain a committed and passionate partner in this transformative scheme for the people of Northumberland".
He added: "We continue to collaborate closely with our client to facilitate a dynamic project that enables flexibility to the site's core design in alignment with evolving advancements in battery technology."
The factory has been designed by Ridge and Partners.