Deal includes Foster & Partners-designed development site Principal Place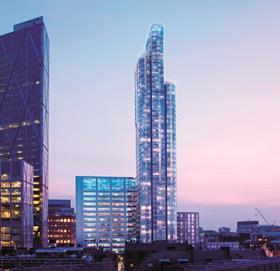 Developer and contractor Brookfield has signed a deal to buy up Hammerson's London office portfolio for £520m.
The deal will see New York-listed Brookfield buy 75% of Hammerson's London offices including 99 Bishopsgate, EC2; the 50% stake in 125 Old Broad Street, EC2; Leadenhall Court, EC3; and the Foster & Partners-designed commercial and residential development site Principal Place, EC2.
Also included in the acquisition are 1 Puddle Dock and buildings on Shoreditch High Street adjoining Principal Place.
Earlier this year, Hammerson announced it would be exiting the office market to become a specialist real estate investment trust (REIT) focused on retail.
David Atkins, chief executive of Hammerson said: "In our strategic review announced earlier this year we identified the opportunity to enhance returns by focusing our energy and capital on the successful sectors of retail which cater to consumers' increasing desire for experience, convenience and value.
"I'm delighted that we have been able to achieve our goal of becoming a pure retail business earlier than anticipated by arranging a single transaction for the majority of our London offices which secures excellent value for shareholders.
"I am confident that at this point in the cycle we can reinvest successfully to increase scale in our three chosen areas of prime shopping centres, convenient retail parks and premium designer outlets."
Hammerson said it would use the proceeds of the sale to invest in retail developments and acquisitions in its three chosen areas: 'prime regional shopping centres', 'convenient retail parks' and 'premium designer outlets'.
With shopping centres, the firm is on site at Les Terrasses du Port, Marseille, a £400 million retail and leisure scheme which is on track to open in spring 2014, and is refurbishing Queensgate in Peterborough.
It is planning to extend and refurbish £320m worth of UK retail parks including the ongoing Monument Mall in Newcastle and Manor Walks in Cramlington.
As for premium designer outlets, Hammerson owns schemes in nine of Europe's main cities and is planning further investment in these.