Chancellor asked to put infrastructure top of agenda at Budget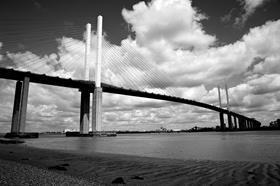 Chancellor George Osborne has been urged to put infrastructure spending at the top of his agenda in the forthcoming Budget this week.
The Institute of Civil Engineers (ICE) has asked the Chancellor to push forward with plans to devolve transport to city regions, close the gap in flood defence maintenance and set out steps for preventative local road maintenance regime.
ICE Director General, Nick Baveystock, said: "This is a critical time – all parties recognise that the scale of the UK's infrastructure needs is growing, and that public finances will remain tight throughout the next administration. There are a number of promises on the table that if delivered could boost GDP, create jobs, regenerate our communities and equip future generations with desirable skills.
"This final Budget before 7 May presents a crucial opportunity for Government to step up and demonstrate its long term commitment to infrastructure."
The call from ICE comes as the Royal Institution of Chartered Surveyors (RICS) warned that the UK had an infrastructure deficit of £60bn. The RICS has demanded the Chancellor ring fence infrastructure spending and index link it to the Office of Budget Responsibility's (OBR) assessment of national growth so that it can be expanded as the economy grows.
In a statement the RICS said: "Spending must be targeted at schemes that will drive wider economic growth across the regions. A priority list of infrastructure projects must be drawn up which considers the social and economic implications of infrastructure and infrastructure spending."
The RICS also called for a series of "bold" measures to boost housing supply, including incentives to encourage homeowners with too much space to downsize, and incentives to encourage building on brownfield sites.