Overall sales up 8.3% in September compared to same month last year
Sales at builders' merchants were up 8.3% in September compared to the same month in 2019, according to the latest Builders Merchants Building Index (BMBI) report.
Overall sales in the third quarter of 2020 also increased by 1% on the same period last year, and soared by nearly two thirds, 63%, compared to the second quarter during the height of the covid lockdown when many merchants were closed.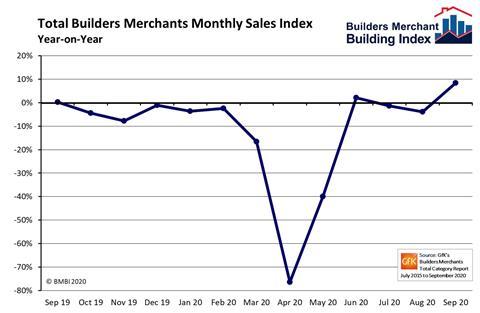 Landscaping sales saw a particularly strong recovery in the third quarter, over 24% higher than in the same period last year - the highest level since the index was set up in 2015.
Workwear and safety wear also shot up by 8% compared to the third quarter in 2019, driven by demand for PPE, while timber and joinery saw a 3.5% rise.
But heavy side building materials like concrete and steel, typically used during earlier stages of construction, are still seeing a significant slump with sales lagging by 16.1% in the third quarter compared to the same period last year.
And kitchens and bathrooms still have some way to go with third quarter sales down 7.1% year on year, despite seeing the strongest quarter on quarter recovery of any product sector with a 131% rise compared to the second quarter.
The BMBI is a monthly index of builders' merchant sales run by MRA Research and gathers sales data from research institute GfK's builders' merchant point of sale tracking data, accounting for over 80% of total builders' merchants' sales throughout Great Britain.