Full details of who's where now available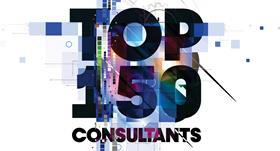 This year's Top 150 Consultants league table has been published.
Building's latest annual survey of the top 150 architects, engineers, surveyors and project managers reveals that more than two-thirds of firms have grown overall staff numbers.
The survey revealed that Brexit is yet to harm the top firms (click here for full analysis of the results), although several are making contingency plans for a potential economic storm.
See the full list of Building's Top 150 Consultants in the following sortable tables:
Methodology
Close to 250 firms were contacted for this year's Building Top Consultants survey. They were sent a survey form asking them to provide details on the number of chartered staff, non-chartered and technical staff, and on their domestic and worldwide fee incomes.
Practices were also asked questions relating to: staff recruitment, wage patterns, margins, areas of work, and work expectations. All data in the attached tables are taken directly from firms' replies.
The survey does not claim to list all the top consultants, as it relies upon firms completing and returning the annual survey form. For a variety of reasons firms sometimes decide not to take part.
Only those firms completing and returning the survey form are included in the survey.