Minister's answers altered after appearing on Parliament's website
The Cabinet Office is blaming an administrative error for a glitch which saw parts of written answers given by Oliver Dowden on Kier's financial state mistakenly struck out.
Dowden, the Cabinet Office minister, responded on Monday to a series of questions asked last week by Labour MP Jon Trickett over what impact Kier's restructuring will have on its ability to carry out public sector contracts.
Dowden was answering on behalf of his boss David Lidington but on Tuesday evening references to the government's confidence in Kier's ability to "deliver quality public services" were scored through.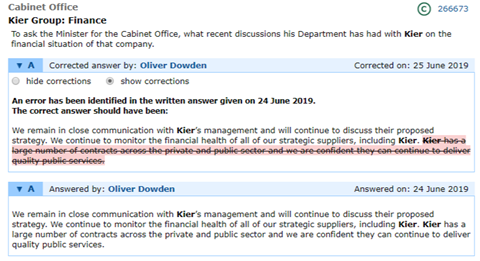 All five of Dowden's answers, which were posted on Parliament's website, were amended and the Cabinet Office told Building the changes were the result "administrative error".
A Cabinet Office spokesperson said: "This was an administrative error which is being corrected."
Around half of Kier's £4.5bn turnover is through public sector jobs.
In a restructuring announced by chief executive Andrew Davies, Kier revealed that 1,200 jobs will go by the middle of next year with more than half of these going by the end of this week.