More than 600 staff to go at the end of the month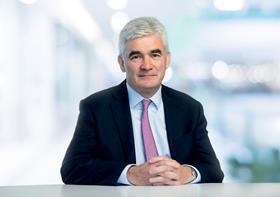 Kier is taking the axe to more than 5% of its workforce and selling its housing business with new chief executive Andrew Davies blaming the firm's buying spree of recent years for making the business too diverse.
The results of his review of the business had been due to be announced at the end of next month but Kier, which has seen its share price shredded in recent weeks and more damaging headlines about its payment practices, said it had been "accelerated over the last month due in part to the ongoing speculation regarding the group's financial position".
Davies (pictured), who started in the middle of April, said he has now completed his strategic review which will see 1,200 jobs go – with 650 of these going by the end of the month and a further 550 expected to go by the middle of next year.
Kier said the decision would give it annual savings of £55m from 2021, although the redundancy programme will cost it £56m to carry out. According to its 2018 annual report, the firm employed just over 20,000 people.
The firm said: "The reduced cost base will provide clear foundations for Kier's improved competitiveness and future growth."
It said the decision had been made because Kier had bought too many businesses in recent years. "During this period, there was insufficient focus on cash generation and that the group today has debt levels that are too high. [The review] also concluded that the group's portfolio is too diverse and contains a number of businesses that are incompatible with the group's new strategy and working capital objectives."
Kier is also pulling the plug on its profitable Kier Living housing business which last year completed just over 2,000 units.
Davies has decided the division is non-core with the firm saying it had received a number of expressions of interest for a business which last year had a turnover of £374m and an operating profit of £26m.
It added that it was looking at pulling out of property, FM and environmental services leaving the firm to focus on regional building, infrastructure, utilities and highways.
The firm is sticking with its housing maintenance and Middle East construction arms.
The news comes as Kier said its net debt levels have risen again for the financial year to an average month end net debt of £420m-£450m.