Council wants HS2 and mainline stations at Euston to be redeveloped together– but HS2 says no
Network Rail has revealed it wants to redevelop Euston station as part of a wider revamp of the site which will see a new terminus for HS2 designed by Grimshaw attached to the existing station.
The network operator has begun planning for a new mainline station at Euston, which would see feasibility studies completed in 2018 and design work launched in April 2019 at the earliest. A spokesman said: "Any plans at Euston are in the very early stages at present."
If built, the new station would form part of Network Rail's five-year delivery plan, titled Control Period 6, which runs from 2019 to 2024.
Local council Camden had wanted to delay the new £2.5 billion high speed terminus at Euston until Network Rail completes design work for a new mainline station.
But this has been ruled out by HS2 saying it could not accept "as a matter of principle" any proposals which would delay the construction of the HS2 terminus at Euston – which HS2 said would delay the entire first phase of the project.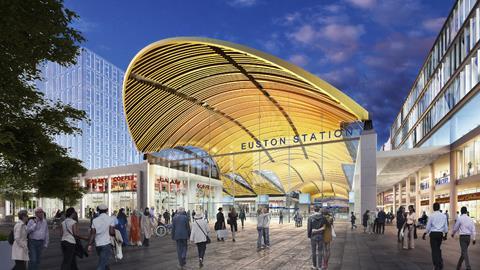 Camden says any HS2 station plans should be frozen until designs for a replacement for the 1960s mainline terminus have caught up so both the HS2 station and current Euston station can be redeveloped in tandem.
In a presentation to the House of Lords earlier this month, the council said: "If a comprehensive design is to be formulated for the stations it is imperative that the design processes are synchronised.
"Details of the HS2 station design at Euston should not submitted for approval until Network Rail's design has reached GRIP stage 4 when a single option has been selected to allow these designs to catch up.
"The council should not be obliged to consider approval of details for the HS2 station until the equivalent plans for the existing Network Rail Station have been prepared."
But in a letter to the council, Paul Irving, partner at law firm Winckworth Sherwood, on behalf of HS2, said: "I am afraid that we cannot accept as a matter of principle that the implementation of the powers conferred by parliament to construct the HS2 project should be dependent on and subject to the progress made on its own by a scheme by another party, a matter over which the Promoter does not have control.
"From the dates given in your letter for commencement of the GRIP 4 stage (i.e. in April 2019) it is clear that the waiting for completion of this…in respect of Euston Station would lead to delay in bringing forward the HS2 project for several years. This must be unacceptable."
Camden has criticised plans to build a 'bolt-on' high speed terminus at Euston rather than opt for a comprehensive redevelopment of the site, arguing that the scheme is more costly and will deliver less homes and a more disjoined station than a comprehensive overhaul of the entire site.
And just weeks after he was elected, London mayor Sadiq Khan called for plans at Euston to be put on hold until a less disruptive scheme was drawn up and questioned whether Euston was even the right terminus for the high speed project.