Housebuilders back discount scheme to open six months ahead of schedule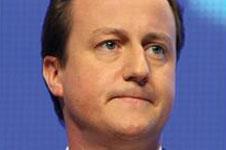 More than a dozen of the UK's biggest house builders have signed up to the government's initiative to boost the supply of homes for first time buyers, which was officially launched today.
The government announced that would-be home owners will be able to register their interest in buying via the Starter Home initiative from the start of next year – six months earlier than originally planned.
Under the initiative, first floated by prime minister David Cameron at this year's Conservative party conference, house builders will be relieved from having to pay planning gain contributions on brownfield sites if they offer homes developed on them to first time buyers at 20% below the market price.
The government has also announced that a new design panel, including Sir Terry Farrell and Sir Quinlan Terry, will be established to vet the design quality of the low cost new homes being developed under the initiative.
Sixteen of the UK's leading house builders have pledged their support for the scheme and said they will consider bringing forward land to develop the discounted houses from next year. They are:
Avant (formerly Gladedale)
Barratt
Bloor
Cala
Countryside
Crest
Linden/Galliford Try
Miller
Persimmon
Redrow
Taylor Wimpey
Bellway
Capital and Centric
Grainger
Mount Anvil
Development Securities
The government has said that a further 15 smaller builders have signed up to support Starter Homes. They are: Affleck Property Services, Badger Building (E Anglia), Beattie Passiv, Border Craft Homes, Carr & Carr (Builders), Entrench, Farnham Bros (Youldon & Barrett), Humber Construction Brick Baron, John Collis Group, Keigar Homes, N London Construction, REB South West, Swale Valley Construction, Swallow Hill Homes, Swan Homes (East Midlands) and Tilbury Projects.
In addition a number of local authorities have backed the scheme including the London borough of Bexley, Trafford council and the Royal borough of Windsor and Maidenhead.
Ministers claim the initiative will deliver 100,000 homes targeted at first time buyers aged under 40, with work on the first raft due to start next year.
Developers offering starter homes under the initiative would be exempt from section 106 and community infrastructure levy charges, which add around £15,000 on average to the cost of each new home, according to the government.
Cameron said: "Under this scheme, first-time buyers will be offered the chance of a 20% discount, unlocking home ownership for a generation."
However, it appears the government has backtracked on its original proposals under which the homes would have been exempt from meeting the 2016 Zero Carbon Target. This proposal was described at the time by the UK Green Building Council as "incredibly short-term and counter-productive."