Management of Songbird Estates tells shareholders to "take no action" in response to formal £2.6bn bid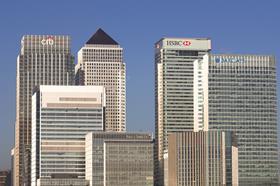 The management of Songbird Estates, the owner of Canary Wharf, have told shareholders to "take no action" in response to a £2.6bn takeover bid tabled by the Qataris and Brookfield Property Partners.
The firm's management had previously criticised the Qatar Investment Authority (QIA) and Brookfield's takeover plan when it was first announced in early December last year, but had said it would reserve judgement until the full formal offer was tabled.
That formal offer was unveiled on Tuesday this week.
Ric Clark, chief executive of Brookfield said the offer provided shareholders with "an attractive premium in cash" for their shares.
He said Songbird Estates was "a highly illiquid stock which has not paid a dividend over the past five years, and as Canary Wharf Group embarks on an ambitious development programme that will alter its risk profile".
But later that day Songbird's management told shareholders to hold fire on accepting the offer, though they did not advise shareholders to reject it.
It said: "Shareholders are advised to take no action regarding the offer until they have received, and had an opportunity to consider, a circular that will be sent to them by the company, setting out the board's detailed response to the offer."
David Pritchard, chair of Songbird, reiterated his view that the offer "did not reflect the full value of the company, its unique operating platform and future growth potential".
He added: "Canary Wharf Group has put in place an unparalleled platform for continued long-term value creation at the unique Canary Wharf estate and elsewhere in London. With the commencement of four separate development projects delivering 22 buildings over the next 5 years, an overall development pipeline of more than 11mft2 and a world class management team, we believe that Songbird and Canary Wharf Group have an exciting future.
But the takeover bidders also revealed four investors have now backed the offer. The latest of these is Franklin Mutual Advisers, which holds 7% of the shares in Canary Wharf Group for its clients, and has written to the bidders indicating it intends to accept the offer "on a see-through basis".
Brookfield has previously announced it received a letter of intention to sell it 4,997,050, approximately 0.7% of the shares in Songbird Estates, from investor EMS Capital LP.
Investor group Madison will sell the joint venture 18,627,054 shares for £3.50 each, representing around 2.5% of its issued ordinary share capital. It will also buy 3.5% of the shares from Third Avenue Management.
He "We and QIA are pleased with the level of shareholder support we have already received and hope that those investors still considering their position will recognise the value in our offer and accept it as soon as possible."