Harrogate's 500-bed covid hospital took just two weeks from procurement to opening

Bam's latest coronavirus surge hospital has opened in Harrogate just two weeks after it was commissioned.
The 500-bed facility, created at the Harrogate Convention Centre in North Yorkshire, was opened via video link this afternoon by Captain Tom Moore, the 99-year-old war veteran who has raised more than £27m for the NHS by walking round his garden.
The project, built by Bam with the British Army and designed by BDP, involved the conversion of the 10,253sq m centre into a temporary level-three critical care field hospital for covid-19 patients. Client was the Leeds Teaching Hospitals NHS Trust.
Bam Design carried out structural engineering, Silcock Leedham has provided services engineering and Arcadis the project management and quantity surveying services.
BDP architect director Mihalis Walsh said: "These hospitals are a result of exceptional collaboration in truly unprecedented circumstances. People are all too aware of the need for these projects to be completed in the time allocated and all of our teams have been working tirelessly to ensure that this happens."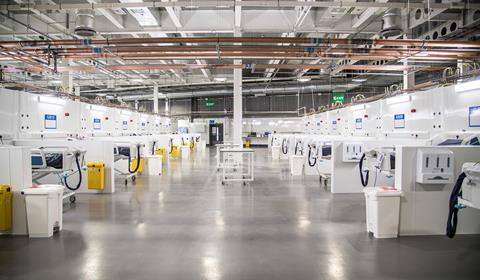 The exhibition halls vary in shape, size and location requiring bed bay configuration plans and ward facilities to be adjusted for each floor. Walsh said BDP's clinical planners were instrumental in tackling these challenges.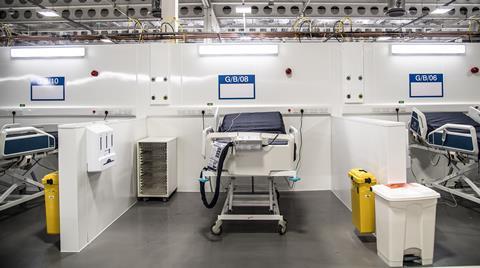 Watch a video of the hospital being created:
Facts and figures
The construction of Harrogate's NHS Nightingale Hospital required:
• 13 miles of copper
• 15,000 m² of vinyl
• 18,000 m² of hygienic walls
• 1,000 pieces of IT equipment with 100 miles of cable
• More than 7 million litres of oxygen
• More than 600 people working together from a number of organisations including the NHS, Bam Construction and the Armed Forces
• More than 30,000 hours of labour