Contractors to construct a flyover and a diveunder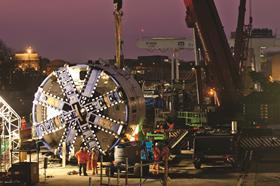 Contractors Carillion and BAM have both netted job on Network Rail's programme of Crossrail improvements.
Carillion has been chosen to build a flyover at Stockley in Hillingdon, enabling Crossrail services to run to Heathrow.
Meanwhile, BAM has been awarded the civils contract for a diveunder and associated track work at Acton freight yard in Ealing. It will mean that freight trains accessing the yard will no longer have to cross mainline passenger tracks, as they currently do.
Jorge Mendonca, Crossrail programme director at Network Rail, said the award of the contracts was an "important step forward" in the Crossrail programme.
He added: "The new Acton diveunder and Stockley flyover will both deliver benefits for passenger and freight services and are among a number of infrastructure improvements we are making as part of the Crossrail project. The works are being carefully planned to minimise the disruption to passenger and freight services."