Railways operator says greater collaboration key to meeting savings targets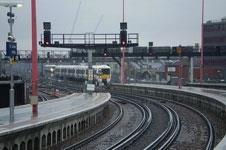 Network Rail has challenged the construction industry to help it deliver savings of 18%, which form a key part of its ambitious investment plan unveiled today
Network Rail plans to invest £29bn between 2014 and 2019 on replacing, maintaining and improving the rail infrastructure of the UK.
But it also needs to reduce costs by 18% to be able to make that investment, within its proposed total budget of £37.5bn, if it is to avoid having to ask for additional money from government or customers .
Paul Plummer, group strategic director at Network Rail said that as improvement and maintenance work made up around two thirds of its spending it would be necessary for Network Rail's suppliers to work with Network Rail to help it achieve those savings.
He said: "A big part of that is early engagement with suppliers and transparency about our forward plans so we can get improvement from them. There's a huge amount of improvement flowing from [better] information and access to information [for suppliers]."
Plummer said he expected capital spending levels to remain consistent over the next ten years after which the legacy of under investment in the railway would be dealt with and spending decline to a lower level to maintain the current infrastructure.
Jeremy Candfield, director general of the Railway Industry Association, which represents suppliers to the industry including many construction firms, said the plans were a "step change" in rail investment.
But he added that there was also a big challenge to up-skill the workforce to cope with plans for greater electrification of the railways.
He said: "There has been an atrophy of those skills because there has been very little electrification work in the past few years."
Network Rail plans to electrify over 850 miles of track over the five year period.
Candfield estimated there would need to be an increase of over 10% in the electrification workforce alone.
He added there was also concerns about how the industry would be able to deliver plans for upgrades to the points systems across the network because this work is usually confined to bank holidays ­- to cause minimum disruption. He said brokering a deal between all partners to resolve this barrier could "take a while".