David Lidington has announced a raft of changes in a speech earlier today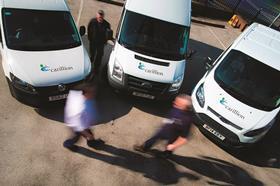 Government has announced a series of changes to the way it deals with its private sector suppliers in the wake of Carillion's collapse.
In a speech at the Reform think tank in central London earlier today, minister for the cabinet office David Lidington announced the government's new plan almost six months after the contractor went bust.
Lidington revealed measures including requiring key suppliers to develop 'living wills' which will allow contingency plans to be rapidly put into place if needed and increased transparency for major contracts by publishing key performance indicators.
He also introduced improved training for government procurers, who have been heavily criticised for continuing to award contracts to Carillion following its £875m writedown last July, and enhanced measures to protect suppliers from cyber attacks.
Lidington also extended the requirements of the Social Value Act in central government to ensure all major procurements explicitly evaluate social value where appropriate, rather than just considering it.
He said: "We will ensure that contracts are awarded on the basis of more than just value for money – but a company's values too, so that their actions in society are rightly recognised and rewarded."
In a further change, the government will use its outsourcing spend – it spends around £200bn on private companies providing public services – to challenge major suppliers to do better on equality and diversity.
Liddington said: "We will now develop proposals for government's biggest suppliers to publish data and provide action plans for how they plan to address key social issues and disparities - such as ethnic minority representation, gender pay, and what they are doing to tackle the scourge of modern slavery."
He also called on industry to cooperate with government in order to restore public trust in government outsourcing.
Mark Fox, chief executive of the British Services Association, said: "This is a robust and welcome challenge by the government to all those involved in the delivery of public services across the private, voluntary and public sectors.
"The challenge to the industry is to improve management practices, increase transparency and develop new arguments for the private sector to deliver public services."
Matthew Fell, CBI chief UK policy director, said: "The collapse of Carillion was a warning of the dangers of short-termism in public contracts. It's therefore important industry and government learn the right lessons, putting their partnerships on a more sustainable footing to protect public service delivery and people's jobs.
"With public services and infrastructure under growing pressure, it's vital for the government to draw investment and innovation from a healthy, competitive and dynamic marketplace of suppliers of all sizes.
"So businesses will welcome a change of focus to long-term value rather than short-term costs in procurement, and its intention to reduce complexity and cost involved in bidding to allow more SMEs to compete for work."
Last week it was revealed that Lidington had conceded there was scope for government to better manage its relationships with suppliers in the wake of Carillion's collapse.
In a letter to the MPs running the inquiry into the contractor's failure, Lidington said a boost to the number of people monitoring suppliers would give government better oversight.