The chairs of the inquiry into Carillion's collapse have responded to the National Audit Office's investigation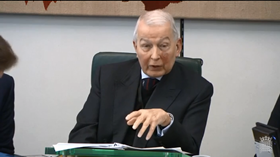 Government was "hoodwinked" by Carillion's public accounts, according to the MPs running the inquiry into the company's collapse.
Commenting on the National Audit Office's (NAO) report probing the government's handling of Carillion's failure, which was published today, MPs said the investigation highlighted how the firm had misled key stakeholders, including the government.
Frank Field (pictured), chair of the work and pensions committee, said: "This invaluable report adds new weight to what we found: Carillion hoodwinked the government as they did many others who were so naïve as to trust their published accounts.
"Philip Green, Richard Howson and Richard Adam were desperate to attribute their company's explosion to some of its more exotic forays overseas. But the NAO's explanations of why common or garden UK public sector construction contracts failed betray extraordinarily negligent planning.
"Surely they could not have been so incompetent? It is difficult to shake the impression that this was conscious cash-chasing, bugger the long term consequences and bugger the interests of suppliers, workers and pensioners."
Field's co-chair Rachel Reeves, who chairs the business committee, said the NAO's report showed the wider cost of Carillion going bust.
She said: "The collapse of Carillion was a catastrophe for those who lost their jobs and the small businesses, contractors and suppliers left fighting for survival.
"The company's failure has left the taxpayer with a bloody nose as we are all left on the hook for the vast sums needed to clean up this mess."
The NAO's report revealed Carillion's liquidation is set to cost the public £148m.
But the watchdog also said it could take years to establish the final cost of the failure, with wider costs to the economy, Carillion's customers, staff, the supply chain and creditors expected.