David Lidington said system would work better with more resources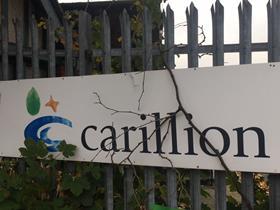 Cabinet minister David Lidington has said there is scope for government to better manage its relationships with suppliers in the wake of Carillion's collapse.
In a letter to the MPs running the inquiry into the contractor's failure, Lidington said a boost to the number of people monitoring suppliers would give government better oversight.
Responding to questions asked by co-chairs of the inquiry Rachel Reeves and Frank Field following the release of the inquiry's report on the collapse, Lidington said the system could be improved by greater resources.
He said: "I feel we could improve our supplier management by increasing the number of Crown Representatives and strategic partnering managers we have; at the time of Carillion's July profit warning we had 14 Crown Representatives and 10 partnering managers covering 30 strategic suppliers."
A strategic supplier is deemed to have more than £100m of business with central government.
He added: "Increasing the number of these resources would allow us not only to cover more suppliers, and hence more of our spend, but would also mean that we have fewer temporary gaps in cover."
But Lidington said he did not believe the absence of a Carillion Crown Representative for three months in the second half of last year had hindered government's ability to deal with the effects of the collapse.
The firm had no Crown Representative between August and November despite issuing a £845m writedown in July.
He said: "My initial view is that … the temporary vacancy that occurred during three months in 2017 did not compromise our [government] ability to recognise Carillion's problems and construct an appropriate response.
"In the case of Carillion, after July 2017 the interaction with the company was sufficiently intense to involve both of these senior officials continuously.
"The company was providing detailed financial information, including weekly cash flow forecasts, that went well beyond our normal interaction with strategic suppliers."
Lidington also sought to defend the Crown Representative system, which the inquiry had said "served no noticeable purpose" in mitigating Carillion going bust.
He said: "I am confident that the Crown Representatives fulfil an important role in a wider system of assurance and supplier relationship management. The Crown Representatives are senior, board level executives who work for the Cabinet Office on a part-time basis.
"The Crown Representatives provide valuable insight from their personal experience and also act as a focus for Government's relationships with the most senior executives in the suppliers."
His response is the first to be published since the inquiry's chairs sent letters last month to more than 20 key figures seeking more information and responses to the findings of their report.