Company planned to drop 2018 turnover by £1.5bn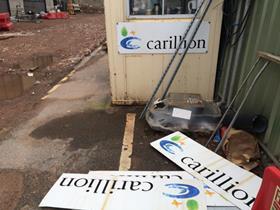 Carillion hoped to raise almost £90m flogging off a number of businesses in the first half of this year.
Those on the chopping block included its utilities business, its stake in two Canadian firms Rokstad Power and Bouchier Group, as well as its Northern Ireland FM arm.
According to a 100 page business recovery plan published last month, the sales would have recouped £86m by the end of June.
Carillion paid £33m for a 60% stake in power line construction and maintenance company Rokstad Power in 2014 and it owned a 49% share in road maintenance firm Bouchier Group when it went bust.
Bouchier repurchased Carillion's minority stake in the company two days after the collapsed construction giant went into liquidation last month.
There was also five disposals under review, including its Canada Roads business, for which the sale process had already begun.
Interim chief executive Keith Cochrane had begun a disposals programme soon after he took up the role last July which had hoped to bring in £300m by the end of this year.
The business plan, which was sent to government less than 48 hours before the company went, also revealed the firm intended to shed £3.1bn from its order book.
Management made three big changes to its plans for procuring future work which included pulling out of the PPP construction market, stopping construction in Egypt and Saudi Arabia and only procuring through low risk routes.
It planned to reduce its order book from £16bn, as it stood in its 2017 half-year results, to £12.9bn by early 2018.
The plan also included reducing turnover from last year's £5.2bn to £3.5bn in 2018 and only increasing it by £300m to £3.9bn by 2022.
The figures were released as part of a parliamentary probe into the firm's collapse. Carillion's plan was eventually rejected by the government who refused to approve a £160m bailout proposed by the firm.