Contractor hits back at blacklisting campaign group which claims Carillion had much wider involvement than admitted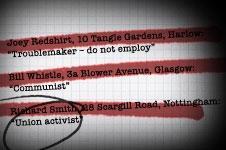 Carillion has hit out at a statement from a group representing victims of construction blacklisting which claimed that the contractor had a much wider role in the scandal than it has admitted.
The Blacklist Support Group (BSG), which represents victims of blacklisting in the construction industry, released a statement claiming that there was "clear evidence" on the blacklisting database held by the Information Commissioner's Office (ICO) that Carillion had a wider involvement in blacklisting than stated by the firm.
The BSG said the contractor's involvement extended beyond that of Carillion subsidiary Crown House, which Carillion has admitted, and involved Tarmac, John Mowlem, as well as Carillion subsidiaries Schal International and SkyBlue Employment Agency as well as Carillion itself.
Blacklisting of construction workers came to light after a 3,200-name list was seized by the ICO in 2009 from the now defunct Consulting Association (CA). The CA sold details of blacklisted workers to more than 40 customers, including Carillion subsidiaries, Sir Robert McAlpine and Balfour Beatty.
In response to the statement by the BSG in relation to Carillion's involvement in blacklisting, a Carillion spokesman said: "We have already explained, in detail, Carillion's very limited involvement with the Consulting Association in our submission to the Scottish Affairs Committee.
"To be clear: the business unit concerned, Crown House, was in fact one of more than 40 construction companies to have used the database.
"We are also aware that John Mowlem used the CA's services prior to its acquisition by Carillion, whereupon the practice was terminated.
"We stand by our statement that no company in Carillion ownership used the database after 2004, when the HR manager of Crown House decided to put a stop to its use."
In its written evidence to the Scottish Affairs Committee, Carillion said it has been eight years since one of its subsidiaries - Crown House Engineering (CHE) - used the CA's referencing service to check blacklisting records.
The firm said Liz Keates - then employee relations manager at CHE and now Carillion's head of employee relations - "proactively stopped" using the CA service in 2004.Carillion said another of its subsidiaries, Mowlem, used the blacklist but stopped doing so before Carillion acquired the group in 2006.
Carillion said its senior management "was not aware of any use of the CA's database" and if it had been "the practice would have been banned". It said it was "deeply regrettable that [its involvement in blacklisting] is being grossly exaggerated to suit unconnected agendas".
However, in its statement the BSG said the database held by the ICO identified Tarmac and Carillion, which came into being after a de-merger from Tarmac in 1999, as subscribers to the CA and that Carillion itself was charged subscription fees, additional fees for checking names and charges for attending CA meetings between 1999 and 2008, a few weeks before the CA was closed down.
The BSG claimed that Schal International and SkyBlue Employment Agency, both Carillion subsidiaries, are also identified in the blacklist files. John Mowlem Ltd - now trading as Carillion (JM) Ltd - is also identified, the BSG said.
The BSG also claimed that senior managers employed directly by Carillion were attending CA meetings as late as 2008 and that John Edwards – a senior Carillion manager - was identified as attending CA meetings in 2008.
A BSG spokesperson said: "These claims about Carillion's role in blacklisting have been stated on numerous occasions in undisputed written witness statements and oral evidence at various Employment Tribunals.
"If any of these facts were incorrect, Carillion has had every opportunity to refute them in court but have always declined to do so."