Parliamentary inquiry has heard contractor's management would not be swayed on business strategy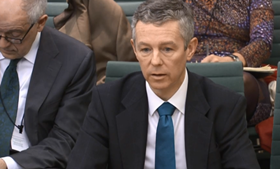 Carillion's largest investors have slammed the failed contractor's management for failing to address their concerns over ballooning debt and the firm's high risk profile.
Speaking to MPs at a Westminster inquiry into Carillion's collapse Euan Stirling (pictured), global head of stewardship and ESG investing at Aberdeen Standard Investments, said it was clear neither executive or non-executive board members were prepared to make any changes to the company's strategy.
Stirling said: "What became clear to us was the company was going to continue on its strategy despite our questioning of that and that strategy was leading to higher debt levels, a higher risk profile and greater complexity within the group.
"It was clear even through our engagement even with the non-executive chairman that that was not going to change."
Stirling told the inquiry, which is being run by MPs from the business and work and pensions committees, that his firm's relationship with Carillion was comparable to the then-ailing contractor's December 2016 results.
"This almost characterises the relationship that we had with the management team. There was a gloss to the presentations that we felt did not reflect the true business circumstances."
"So when we looked at the 2016 results, the picture that was painted in the first couple of the pages of those reports was not reflected by the information deeper in the accounts."
Both Stirling and Kiltearn Partners chairman Murdo Murchinson said there appeared to be a lack of challenge from Carillion's non-executive directors.
Stirling said: "We met Phillip Green twice in 2014 and 2015. At that time I don't think it was evident the ship was going down but was listing slightly towards starboard. What we expect of non-executive directors is a degree of support, guidance, mentoring, but also challenge to the executive teams.
"We felt the non-executive's support was definitely there for the strategy and the execution of that strategy, but perhaps the challenge was lacking, which gave us the firm opinion that whatever we said to the company, either executives or non-executives, [it] was going to be pursued for a number of years to come, and we were dissatisfied with that."
Murchinson said the the lack of action from the non-executive directors was a significant issue. "I'm concerned about the role of non-executive directors. In this particular situation it not clear to me that they have been able to exercise any effect or check on the executive management team.
"It appears they were hoodwinked as much as anyone else and I think that's a serious issue," he said.
MPs also heard from Kiltearn Partners about its concerns regarding Carillion's auditors, KPMG.