Chairman Philip Green denied support would be a 'bail-out'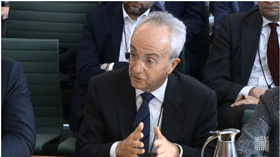 MPs running the inquiry into Carillion's collapse have revealed the stricken contractor paid advisors £6.4m in the days leading up to its collapse as it desperately sought £10m in government aid.
The work and pensions and business committees have released information from the Official Receiver about Carillion's last minute payments to its advisers, alongside a letter chairman Philip Green (pictured) wrote to the government looking for short-term funding.
The letter, which Green sent to John Manzoni, permanent secretary for the Cabinet Office on 13 January, denied any funding from the government would be a bail-out.
It said: "If Carillion successfully restructures itself, it will be at extremely modest cost to HM Government" he said.
"It will not be a bail-out, and there can be no basis for saying that Carillion or its shareholders or management is being rewarded for failure or for past mistakes. The previous senior management team have all exited the business."
The funding proposal attached to Green's letter revealed Carillion wanted £160m in government finance to guarantee £60m's worth of loans from the banks.
The plan from the company's bosses was for short-term finance from the banks and government to provide the basis for a longer term restructure.
The documents also reveal the contractor urged the government to talk to HMRC about plans to defer £62.7m of tax payments as it scrambled to stay afloat.
The inquiry's co-chairs were scathing of Carillion's large payments to City advisers the day before the company requested government funding.
Frank Field, chair of the work and pensions committee, said: "With the company teetering on the abyss, Mr Green had the cheek to try and get the government to surrender another £160m of taxpayers' money.
"The most troubling element of this letter is its demands for an immediate £10m from taxpayers, the very next day after Carillion shelled out £6.4m to its illustrious advisers, including the EY restructuring gravy train and half the law firms in the City of London.
"The smaller suppliers that are the lifeblood of the British economy of course got no such treatment."
Field's counterpart on the business committee, Rachel Reeves said: "This 11th hour ransom note lays bare the cynical leadership of the Carillion board. Directors' management ensured that the costs of failure would be picked up by the taxpayer, either from a bail-out or footing the bill for a desperate clean-up operation.
"Expensive advisers still pocketed millions while workers risked losing jobs and long-suffering suppliers faced financial ruin."
Carillion's last-gasp advisor payments
| Advisor name | Amount paid (£) |
| --- | --- |
| KPMG | 78,000 |
| WILLKIE FARR AND GALLAGHER UK | 164,016 |
| SACKER & PARTNERS | 37,211 |
| MILLS & REEVE | 20,621 |
| LAZARD & CO | 551,716 |
| FTI CONSULTING | 1,018,666 |
| FRESHFIELDS BRUCKHAUS DERINGER | 91,165 |
| ERNST & YOUNG | 2,508,000 |
| CLIFFORD CHANCE | 149,104 |
| PRICEWATERHOUSECOOPERS | 276,000 |
| AKIN GUMP | 305,549 |
| SLAUGHTER AND MAY | 1,196,093 |
| | 6,396,141 |