Contractor says remaining in EU is vital for access to skills and investment, but fears grow of a British exit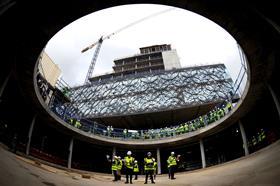 Carillion, one of the country's biggest contractors, has told Building the UK should stay in the EU or risk economic instability and a brake on inward investment.
The firm, which has a turnover of £4.6bn, is the largest so far to put its name to "Building Says IN", Building's campaign in support of remaining in the EU in the forthcoming referendum. Other builders to have signed up include Mace, Willmott Dixon and ISG.
Carillion, which is currently extending Liverpool's Anfield football stadium, said: "We believe that [the EU] provides economic stability and helps to stimulate investment which drives growth and creates jobs."
The firm said it is worried about the impact a Brexit would have on its ability to hire workers from across the EU.
It added: "[The EU] also helps us to access people with the skills we need to support the ongoing development and success of our business."
Carillion's decision to back staying in the EU comes as the campaign enters its final week ahead of next Thursday's polling day.
On Tuesday, four new opinion polls all showed Leave pulling ahead of Remain, with two polls giving those who want to quit the EU a six-point lead.
The chief executive of BDP - the country's third biggest architect with nearly 900 staff - admitted he had been caught off guard over how much the gap between the two sides had narrowed. "I'm surprised at how close it's become," John McManus said. "The uncertainty is very damaging."
McManus said a vote for Brexit would cause a number of "difficulties" for BDP, which has offices in Ireland and the Netherlands, in the months ahead.
He added: "We are very outward looking in the practice. From our perspective there will be some difficulties ahead if Brexit occurs."
Other senior architects admitted their concerns were rising over the possibility of a Brexit. Speaking about Leave's lead in the polls, Robin Nicholson, a senior partner at Cullinan Studio, which is also backing Building's campaign, said: "I'm incredibly alarmed. I think it's a real worry."
And another architect, Rab Bennetts, a director with Bennetts Associates, said he was backing Building's campaign to stay in the European Union.
He said: "At heart I'm a collaborator, not an isolationist. The idealism behind European countries working together, to avoid conflict, strengthen trade and enhance culture, is so strong it mustn't be allowed to disappear."
Building launched its campaign after results of an exclusive survey of 1,300 construction professionals last month showed two-thirds supported staying in.