Exclusive: Subcontractors will have to pay fee to get money before 120 days as part of new payment system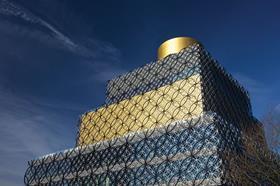 Carillion is nearly doubling its maximum payment terms to suppliers to 120 days in a new payment system.
Under Carillion's Early Payment Facility, payment terms will rise from a maximum of 65 days to 120 days and subcontractors will be paid directly by a bank instead of Carillion, through a controversial financial mechanism known as "reverse factoring".
Under the scheme, subcontractors will have to pay a charge to the bank if they want to be paid earlier than 120 days. The charge is set out on a sliding scale that increases to up to 0.67% of the value of the invoice, depending on how early the subcontractor wishes to be paid.
A Carillion spokesman said the scheme was voluntary and Carillion would reimburse the cost of bank charges for payments made to subcontractors in line with their current payment terms, leaving them no worse off. He also said suppliers could negotiate with Carillion to cover a proportion of the fees for payment earlier than their current terms.
But a Carillion subcontractor, who did not wish to be named, told Building he had serious concerns about the scheme and feared that the charges would not be covered by Carillion. "The subcontracting industry can't afford it. This would mean that we wouldn't be able to do business with Carillion - it's that serious," he said.
He added that the scheme was too complicated to be properly understood - especially by smaller suppliers. "A lot of people will sign up for this out of desperation and later regret it, especially smaller contractors who don't have commercial teams to advise them."
In a letter to suppliers, seen by Building, Carillion group finance director Richard Adam said the move was "in support" of the government's Supply Chain Finance scheme - a form of reverse factoring - which was launched by David Cameron in October, primarily to support the cash flow of smaller firms within the supply chain.
In documents alongside the letter, Carillion said it was a "mutually beneficial arrangement that provides earlier access to funds for our suppliers and a strong balance sheet for Carillion".
But Suzannah Nichol, chief executive of the National Specialist Contractors Council, said it was "in no way acceptable" to extend payment terms to 120 days, while the government put so much emphasis on prompt payment.
She said although the scheme was voluntary, suppliers would feel pressured to accept new terms for fear of losing future work. "Many suppliers, certainly at this moment in time, find it difficult to stand up to main contractors," she said.
Rudi Klein, chief executive of the Specialist Engineering Contractors Group, advised firms to be careful before entering into such an arrangement. He pointed out that suppliers would still be left chasing Carillion for reimbursement of the bank charges.
"This doesn't improve supply chain finance, it underwrites the major fault line in UK construction, which is the under capitalisation of the largest firms that let out most of the work," he added.
In its accounts for the year to 31 December 2012 Carillion reported that its net debt - the balance of its cash in the bank minus its borrowings - increased by nearly 50% the previous year to £156m, with average debt through the year increasing by £125m to £344m. It also reported that it owed trade creditors £1.6bn.
Kevin Cammack, analyst at Cenkos, who downgraded his share price expectation for Carillion this month, in part due to the firm's low cash reserves, said that extending payment terms to 120 days would allow Carillion to move up to a month's worth of debt off its balance sheet.