Architect Studio Egret West designs 336-home scheme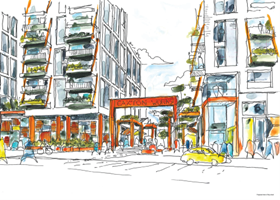 Developer Cathedral has submitted plans for redevelopment of the Caxton Works site in Newham to the council.
The plans, designed by architect Studio Egret West, include 336 mixed-tenure homes and business space at ground and mezzanine level.
The developer aims to make the area a local hub of "forward thinking" businesses.
Work is due to start in September 2014 with the first building due for completion in 2016.
Richard Upton, chief executive of Cathedral, said the site had the "potential[…] to become a catalyst for all sorts of other creative activity".
He added: "Studio Egret West has grasped the opportunity to develop a design which will both shape and reflect the future of the new community on Caxton Street North, and we now look forward to working with London Borough of Newham to bring the development to fruition."