Work starts on regeneration of old municipal market building in city centre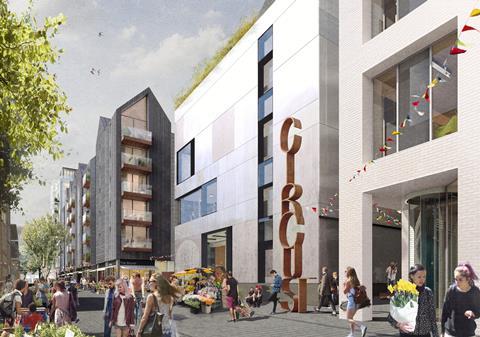 Cathedral has started work on a £200m redevelopment of Circus Street in Brighton.
Demolition contractors Dorton are to start work on clearing the old municipal and market building to make way for a new retail centre in the city, which is expected to create around 400 jobs.
According to Cathedral - part of Development Securities - all timber from the demolition works will be used for board making and bio mass fuel. All steel will be re-used and all hard core and concrete will be kept on site to be used on the site construction of the new Circus Street development. Any waste will go to a transfer station for further sorting.
Richard Upton, chief executive of Cathedral Group, said: "Our neighbours are our first priority and we are working with our partners and contractors to be the most considerate builders in the city to date, working to the best possible standards."
Warren Morgan, leader of Brighton & Hove City Council, said: "The council is proud to have played its part in helping to bring regeneration to the Circus Street area. It's great to see this major project get under way which will deliver much needed homes as well as employment and community benefits, alongside student accommodation that will ease the pressure on the city's housing stock."