UK company president says that business needs 'protection' from government green policies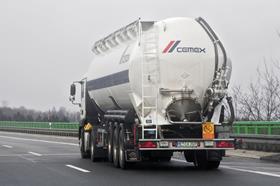 Aggregates giant Cemex is considering shutting down its UK cement works if the government fails to protect it from forecast rises in production costs resulting from its environmental reforms, writes Iain Withers.
Cemex UK's country president Jesus Gonzalez told Building the company needed "protection" from the government's green policies, including emissions trading and a proposed carbon floor price, in order to keep its UK works open.
Gonzalez said the company's works in South Ferriby near Hull - which employs 150 people and has an 80-year history – could be the first of three works to close.
A government-commissioned forecast by consultant ICF International shows the cumulative effect of its green policies is expected to push up the cost of producing cement, on 2010 prices, by 20% by 2020.
UK production of cement has plummeted by 46% since 2007, while prices have increased by 27% over the period, according to government figures.
Firms think we are trying to increase prices as much as we can. But we are loss-making here

Jesus Gonzalez, Cemex UK
Gonzalez said he expected cement prices to increase again next year. He advised construction firms "to pass the cost to the next level of the value chain" by charging more for work.
He said: "[Construction firms] think we are trying to increase prices as much as we can to make as much as we can. But we are loss-making in the UK."
Cemex announced a 9-10% increase in its UK cement price in January, although Gonzalez said this was negotiated down with suppliers to 3-4%.
Low volumes, a "high cost structure", high finance costs and increasing electricity costs have dissolved margins and the company's works are operating "under capacity", he said.
A decision to shut the firm's South Ferriby works - which is operating at 50% capacity - could be made within three months as part of the firm's budgeting process, although Gonzalez said there was a "less than a 10% chance" of this happening.
But Gonzalez said the South Ferriby works would close in 2014 "if government changes are fully implemented".
He said government policies would make his business "unsustainable".
Cemex has lobbied the energy and climate change and business departments, as well as business secretary Vince Cable.
He said Cemex would continue to supply UK customers from its production facilities abroad if it shuts UK production, but warned this could result in "acute disruption" for firms.