Brandon Lewis demands more from housing associations at Conservative party fringe event chaired by Building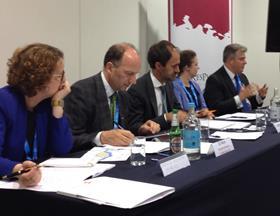 Housing minister Brandon Lewis has called on local authorities to single out and challenge housing associations that aren't building enough new homes to do more.
Speaking at a fringe event at the Conservative Party conference organised by think-tank Respublica and chaired by Building deputy editor Joey Gardiner, Lewis called on housing associations to "look at themselves" and work harder to address the housing crisis.
Lewis's comments come after a series of policy changes from government that many associations say will make it harder for them to build homes, including the introduction of right to buy for association tenants, and a forced reduction in the rents they can charge.
Lewis said he understood that many associations were having to look again at their business plans because of the change in the government's rent policy, but said that nevertheless a number of associations were contemplating actually increasing the amount of homes they build.
Speaking to an audience largely made up of Conservative councillors he said: "There are the best part of 1,600 housing associations, [but] there is a relatively small number – less than 100 – that do most of the building in this country.
"There's this big core in the middle who need to look at themselves, when they're making big surpluses, [they] need to be doing more to build more houses. And I think we all have a duty in our own areas to work out who those associations are and challenge them with 'why are you not doing more to build more houses?'"
The National Housing Federation has estimated that up to 27,000 fewer homes could be built as a result of the rent cut, which will reduce association's income and thereby their ability to borrow money. Some associations have said the right to buy, the imposition of which they voted to accept this week on a voluntary basis, will also reduce their ability to fund additional new homes.
Lewis robustly defended the right to buy policy, saying each home sold would be replaced, meaning a net addition to the UK's stock of homes. "I think we forget that not only does right to buy provide social mobility and the empowerment of owning your own home, it also provides money to build those extra homes that are so important. That's why I will not take any messing round from people who own their own home telling me I can't give other people the right to do that."
At a separate fringe event earlier in the week Lewis also promised to reform the way that section 106 deals work in order to end the "farce" of multi-year delays to large projects.
Speaking at a Centre for Social Justice fringe event, Lewis said he would take further action to reform planning in order to reduce the difficulties seen by developers getting approval to start on site.