But chancellor warns self-employed: 'We must all pay in equally in future'
The government has announced an enormous rescue package for self-employed workers impacted by coronavirus, described by the chancellor as "one of the most generous in the world".
Closely resembling the support package offered to workers in regular employment unveiled last week, the government has promised to give the self-employed 80% of the average monthly profits they have earned over the past three years, up to £2,500 a month.
Announcing the scheme in Downing Street's daily press conference, chancellor Rishi Sunak (pictured) said that HMRC is working "urgently" to get the scheme up and running and the government expects people to be able to access it "no later than the beginning of June".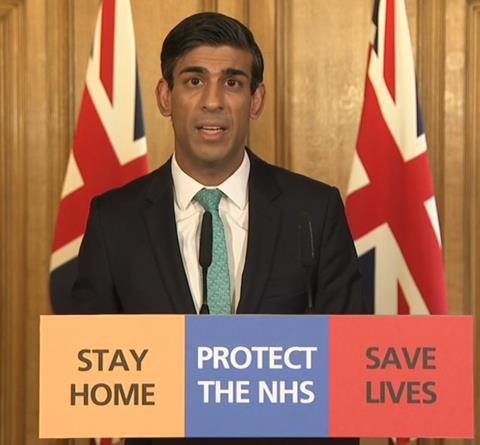 The package will be available to anyone with trading profits of up to £50,000, but only those who make a majority of their income through self employment.
Sunak said: "If you are eligible HMRC will contact you directly, ask you to fill out a simple online form, then pay the grant straight into your bank account."
The government's historic support package for PAYE staff has come under significant criticism since it was announced last Friday for not providing cover for the self-employed.
Hitting back at the criticism, the chancellor said that providing similar levels of aid to the self-employed "has been difficult to do in practice".
He added: "To make sure only the genuinely self-employed benefit it will be available to people who make the majority of their income from self-employment and to minimise fraud only those who are already self-employed and have a tax return from 2019 will be able to apply."
Sunak said the scheme will cover 95% of self-employed people. Explaining that the last 5% not covered by the scheme have an average income of "around £200,000", he said: "We think what we have done is reasonable, proportionate and fair."
But his announcements had a sting in the tail.
After thanking industry bodies and trade unions for their collaboration on the measures, Sunak said: "I must be honest and point out that in devising this scheme in response to many calls for support it is now much harder to justify the inconsistent contributions between people of different employment status."
He added: "If we all want to benefit equally for state support, we must all pay in equally in future."
The comments were a strong suggestion that the government's roll-out of the IR35 tax reforms affecting self-employed people would still go ahead. The controversial measures were due to take effect in April but were postponed because of the coronavirus crisis.
Reacting to the announcements, Brian Berry, chief executive of the Federation of Master Builders, said: "Construction workers across the country will now be taking a collective sigh of relief.
"I am delighted that the chancellor has heeded our calls to be generous with his offer to the self-employed, who make up almost 40% of those working in the construction industry. Building companies will now also be able to close sites to protect workers and public health without having to worry about the losses faced by self-employed workers on those sites."
Dave Chaplin, chief executive of freelance ContractorCalculator, said: "I applaud the chancellor's package to provide financial support for the UK's freelancers and contractors."
But he added: "It does seem unjust that all employees can access the job retention scheme, but there is a cap on the scheme for the self-employed. Also the delay until July could cause considerable cash flow problems for many."
Sunak told the self-employed: "You haven't been forgotten. You haven't been left behind. We all stand together."
But Seb Maley, chief executive of consultant QDos, said: "The chancellor may have delivered for millions of self-employed workers, but hundreds of thousands of genuinely self-employed individuals working through their own limited companies have been overlooked.
"Like employees, these people pay their tax, contribute billions to the economy and are helping the UK through this crisis. So it's concerning that the government has ignored them when it matters most."
The RIBA's chief executive Alan Vallance said that while the measures would provide long-overdue relief to sole practitioners who make up around 25% of chartered practices most need funds to tide them over now, not in two months' time.
He added: "There are also a number of unanswered questions around the eligibility of those with newer businesses and some types of self-employment. We will be pushing the Treasury for clarity.
"The challenge facing the Treasury is unenviably complex, but it needs to introduce some sort of interim financial support as a matter of urgency."
Sunak wrapped up his address by saying: "The last 10 days have shaken our country and economy as never before.
"In the last two weeks, we have put aside ideology and orthodoxy to mobilise the full power of the British state.
"We have done so in the pursuit of a single goal: to protect people's health and economic security."
The number of people who have died becasue of coronavirus jumped by more than 100 in a day for the first time, rising from 475 to 578. The number of infections was up to 11,658, a rise of 22%.