Rishi Sunak outlines furlough bonus, stamp duty holiday and £3bn green building plan
Rishi Sunak has announced a raft of measures to support construction jobs and boost housing to protect the sector from mass redundancies in the coming months.
Employers who bring back furloughed staff will be paid £1,000 per employee, stamp duty will be cut on homes worth less than £500k until 31 March next year and home owners will get a £3bn grant to make their houses greener.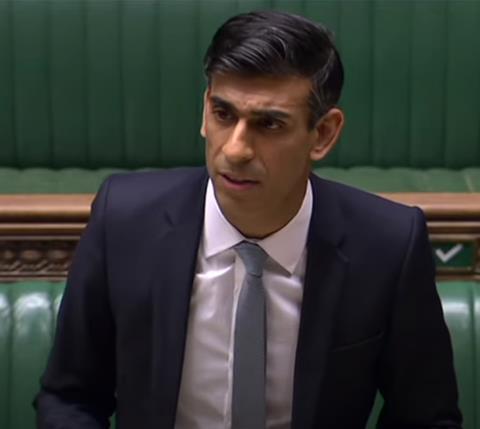 But Ranjit Dhindsa, head of employment at law firm Fieldfisher, questioned the worth of the furlough bonus which comes with strings attached.
"Most businesses have planned what they were going to do on the assumption there was no bonus. Furthermore, the condition that employment has to be maintained till January is also quite difficult. A lot of employers can't plan that far ahead yet."
>> Initiative to prevent skills leaving industry launched by government
Despite the stamp duty cut being initially planned for the autumn, it will now take effect immediately due to fears the housing market would be frozen in the interim after the plans leaked.
The chancellor (pictured), who called today's speech the second phase of the government's economic response to covid-19, said new apprenticeships will be created with employers paid £2,000 per apprentice for people aged under 25 and £1,500 for those aged over 25.
Sunak also promised to triple the number of places in sector based work academies, and provide £100m to create more places on level two and three courses for 18- and 19 year olds hoping to find work in high demand sectors, including engineering and construction.
Pledging a green recovery, the chancellor also earmarked £1bn to make public sector buildings greener and £2bn for a Green Homes Grant.
The grant will allow homeowners and landlords to apply for vouchers to make their homes more energy efficient, with the government covering at least two thirds of the cost up to £5,000 per household.
For low-income households, the vouchers will cover the full cost up to £10,000, while social housing will receive £50m to pilot green fit-outs including wall insulation and heat pumps.
The measures would see up to 650,000 homes retrofitted and create 140,000 green jobs, the chancellor claimed.
But several industry chiefs have said the green measures don't go far enough. Dave Sheridan, chairman of modular housebuilder Ilke Homes, said: "While the chancellor's measures to retrofit 650,000 homes are absolutely on the money, building new eco-homes must remain the priority."
Meanwhile, the cut on stamp duty received a mixed response with firms complaining there was no clarity on the government's Help to Buy initiative which is due to wind down next March.
Redrow chief executive Matthew Pratt said: "The conclusion of the current [Help to Buy] scheme now coincides with the end of the stamp duty holiday and we think this needs to be carefully reconsidered to avoid a cliff-edge of support for customers. We call on the Government to extend the deadline for [Help to Buy]."
And Jan Crosby, UK head of infrastructure, building and construction at KPMG, said: "The market has already been motoring since lock down has been relaxed – pricing has remained stable and new reservations have been high. This has demonstrated the large pent up demand that still exists for home ownership. The stamp duty cut may therefore not have been needed. More important is providing longer term clarity on Help to Buy."
Construction reacts to the chancellor's summer statement
"It was clear from the outset that much of the chancellor's speech would be reiterating the prime minister's commitment to infrastructure without providing any further detail. I yet again find myself saying 'we look forward to more detail in the autumn'."

David Barwell, UK and Ireland chief executive office Aecom
"The numbers announced today are not insignificant but while the intent is unquestionably sound, the quantum impact may not be as transformational as the government may hope."
Paul Chandler, group managing director of Wates Construction
"The chancellor's summer economic statement showed that government is determined to get the economy into the recovery phase, with some new policies announced after last week's damp squib of a 'New Deal' announcement from the prime minister."

Noble Francis, Construction Products Association's economics director
"It's crucial to avoid the mistakes of previous retrofit schemes by ensuring that all measures and installers under the scheme are properly accredited and deliver real improvements."
Julie Hirigoyen, chief executive at UKGBC
"The measures announced today are all about getting money into the economy now. With more than £30bn up for grabs, construction came out as a real winner."

Mark Cowlard, UK chief executive at Arcadis
"Apprenticeships, infrastructure spending, stamp duty holidays and support for the green agenda are all measures which are helpful to our sector. The issue is that they are long-term solutions for short-term challenges and time is against us as we all face what could be the worst recession in living memory."
Richard Steer, chair of Gleeds
"As with the spring budget, there were no radical measures on housing. Stamp duty land tax breaks have been the go-to measure to stimulate the residential market for many years and therefore, there is no surprise that the chancellor has introduced the increased threshold now."

Russell Gardner, EY's head of real estate, hospitality and construction
"As a sector that has operated on tight margins, now, for some time, the long-term outlook is not great, despite the chancellor's promises and upbeat tone."
Clive Docwra, managing director of McBains
"Eyebrows should be raised at the voucher-based home upgrades scheme. Individual interventions, including insulation, are rarely enough to properly address energy efficiency in buildings."

Richard McWilliams, director at Turner & Townsend
"It is essential that all areas identified for priority spending investment are guided by need and desired social outcomes, and projects should be shovel-worthy, rather than shovel-ready."
Mike Haigh, executive chair of Mott MacDonald