Late architect's practice was behind design for Leadenhall Building
The developer on the Cheesegrater has paid tribute to architect Richard Rogers, who died at the weekend aged 88.
The Leadenhall Building was designed by Rogers Stirk Harbour & Partners for British Land whose head of development Nigel Webb said: "I had the privilege of working closely with Richard on the building. An architectural genius who demonstrated great humility, he was a delight to work with."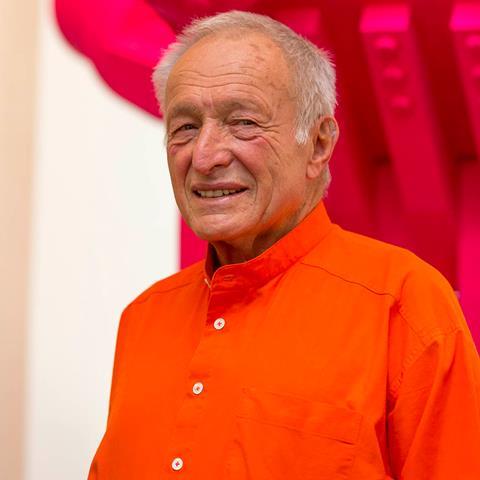 Webb added: "I will always remember Richard asking if the goods lifts in the building, which are visible from the exterior, could be coloured in his favourite light green to match his often worn shirts. A lovely personal touch, which I was more than happy to agree to. My thoughts are with his family and friends."
Others to pay tribute after the architect's death was announced on Sunday morning have included the LSE's director of estates Julian Robinson, who commissioned RSHP to design the recently opened Centre Building after an international design competition.
He tweeted: "Richard was a lovely bloke. He took a personal interest in the design and development of #lse Centre Building. Coming to site and donning full PPE to get to ride in the hoist to the top of the building at the age of 84!"
And David Chipperfield wrote on Instagram: "It is difficult to think that we will never see the beautiful smile of Richard Rogers again. He has left us so much through his work, his political engagement and the example he set as a person and his consideration for others. Few people can claim to have been genuinely loved by so many. In their sadness [his wife] Ruthie and the family must be so rightly proud of him."
London mayor Sadiq Khan tweeted: "Terribly saddened to learn of the death of Richard Rogers. He was one of the world's most influential architects and the brilliant mind behind some of London's most iconic buildings."
Andrew Adonis, former secretary of state and former chair of the National Infrastructure Commission, wrote: "A true genius of modern city planning and architecture. He influenced a generation like no other and I was privileged to be a friend."
Lloyd's of London yesterday sounded the Lutine Bell, the bell salvaged from HMS Lutine which sank in 1799 during a storm and which hangs in the atrium of its underwriting room, in honour of Rogers, who designed its world-famous headquarters.
Rogers, one of the greatest architects of the post-war era, died on Saturday, just over a year after stepping down from the practice he founded more than 40 years ago.