Office space for Chinese businesses unveiled as part of development next to Manchester Airport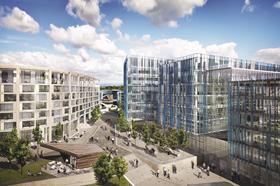 A £130m 'China Cluster' scheme, part of an £800m expansion programme at Manchester Airport, has been launched after a visit to the airport by prime minister David Cameron and Chinese president Xi Jinping last Friday.
The scheme is part of the Airport City Manchester development, which sits next to the airport and is one of the largest property developments in the region alongside NOMA and MediaCity.
The China Cluster project will aim to be a hub for Chinese businesses to invest in the north of England, and will offer a range of flexible office accommodation from serviced office space to modular or campus style linked office buildings.
It will also provide Chinese businesses with expansion opportunities to support future growth, and aims to offer improved availability with several plots available for development concurrently.
The scheme will be based around two campuses within the Airport City development – Wuhan Square and Shenzhen Gardens – totalling 45,000 m2.
Airport City Manchester was launched in Beijing in October 2013 by Chancellor George Osborne and is a joint venture between Manchester Airports Group (MAG), Beijing Construction Engineering Group (BCEG), Carillion and the Greater Manchester Pension Fund.
Dai Binbin, chairman of BCEG, said: "BCEG has been instrumental in conceiving the concept of the 'China Cluster' and believe it will prove to be a compelling platform from which ambitious Chinese companies can enter the UK and engage with one of the UK government's key strategic priorities; the development of the Northern Powerhouse."
Charlie Cornish, CEO of MAG, said: "Manchester Airport is the global gateway for the Northern Powerhouse and both the China Cluster and the new direct route (between Manchester and Beijing) will provide an opportunity for Chinese investors to access the many opportunities available to them in the North.
"Businesses in the North will also be significant beneficiaries as it will soon become much easier for them to build strong commercial relationships with Chinese partners."