UK ministers negotiate nuclear deal with Chinese and announces £2bn guarantee for Hinkley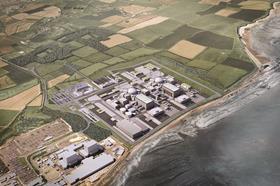 The UK government is close to a nuclear deal with China which could pave the way for Chinese investment in three UK nuclear plants, including the first Chinese-designed nuclear power plant in the west.
Energy minister Amber Rudd - currently on a trade mission to China with Chancellor George Osborne - told the Financial Times the UK was close to a deal with China that could see initial Chinese investment in up to three UK nuclear power plants.
The deal - likely to be sealed during Chinese premier Li Keqiang's state visit to the UK next month - would see China commit to investment in EDF's Hinkley Point C, Somerset, and Sizewell, Suffolk, nuclear plants in exchange for a controlling stake in the planned nuclear plant in Bradwell, Essex.
The Chinese are eyeing making Bradwell nuclear plant the first Chinese-built and operated reactor in the west.
Rudd told the FT China would "definitely be a part" of building Britain's next generation of nuclear power stations.
The news came as George Osborne announced £2bn of government loan guarantees for Hinkley Point C.
The Treasury said it hoped the commitment would "pave the way" for a final investment decision by French state-owned EDF to build Hinkley Point C - a decision that has been repeatedly delayed.
Osborne said: "Britain was the home to the very first civil nuclear power stations in the world and I am determined that we now lead the way again.
"Nuclear power is cost competitive with other low carbon technology and is a crucial part of our energy mix, along with new sources of power such as shale gas."