BCEGI's UK operations director refuses to rule out acquisitions to boost company's market share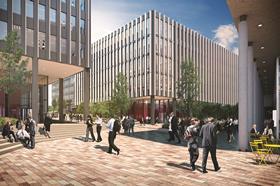 One of the biggest Chinese contractors working in the UK says it wants to become a top 20 UK contractor within five years and could make acquisitions to grow.
The comments, by Beijing Construction Engineering Group International (BCEGI) UK operations director Gavin Taylor, comes amidst growing concern within major UK players about the impact of Chinese firms, with a number winning major contracts in the past 12 months.
To become a top 20 contractor implies an annual turnover of around £800m. Taylor said BCEGI was "highly collaborative" and was "not here to pursue aggressive takeovers of well-known brands or cause disruption". However, he added: "There is a lack of contracting resource in the UK. We do need to grow and you can only grow organically at a certain rate, therefore we are not ruling out an acquisition at this point."
We do need to grow and you can only grow organically at a certain rate

Gavin Taylor, BCEGI
The firm has already teamed up with Carillion to develop the £800m Manchester Airport City scheme, which will include a £130m "China Cluster" to provide Chinese businesses with expansion opportunities to support future growth. BCEGI is a sister company to the Chinese state bank and, after being set up just four years ago, already operates in 26 countries and employs 20,000 people.
The comments come as Deborah McLaughlin, chief executive of Manchester's housing delivery agency Manchester Place, revealed the body is also engaging with Chinese firms. McLaughlin told the Building Live conference that there was a lack of builders to construct residential towers in the area, as well as a general lack of capacity, meaning it was turning to Chinese firms.
Other projects Chinese firms have bagged in the UK include the £1.7bn development of Royal Albert Docks in London by Chinese-founded ABP, with Chinese firm Citic Construction as construction manager, and the £500m One Landsdowne Road tower in Croydon, where China Building Technique Group is the contractor.