Councillors vote narrowly in favour of city's first concert hall for 100 years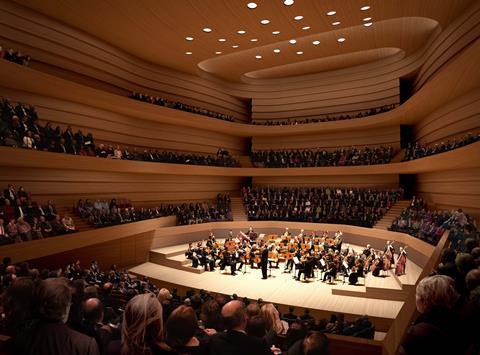 David Chipperfield's concert hall for Edinburgh has been approved after a nail-biting five-hour debate.
Councillors voted 6-4 in favour of the World Heritage Site scheme after hearing from supporters and opponents – and the architect himself, who was asked to defend the use of concrete rather than stone for the facades.
The £45m Dunard Centre – previously known as the Impact Centre – will be the Scottish capital's first dedicated new space for music and the performing arts in more than a century.
It was opposed by the developer of the £850m St James Centre, a neighbouring shopping centre and hotel complex currently being built by Laing O'Rourke for TH Real Estate.
It complained that it will be forced to bury all the project's services in basement levels because of the sensitivity of the location, while Chipperfield was not required to.
The backers of the Dunard Centre insisted this was not a financial decision but a practical one – production companies would not be prepared to push pianos manually for 40 yards to reach the stage, they said
There were also complaints about the bulk of the new building and its impact on light for surrounding properties.
But heritage experts backed the plans, with Adam Wilkinson from the Edinburgh World Heritage Trust, praising them for showing "a good understanding of the World Heritage Site".
The new building will be built on the site of a 1960s extension to Dundas House, an 18th-century architectural gem which became part of the Royal Bank of Scotland estate in 1825. The new centre will be linked to the historic banking hall.
The centre will provide a home for the Scottish Chamber Orchestra and a venue for the Edinburgh International Festival. It will contain a 1,000-seat auditorium, a 200-seat studio, a large foyer for all-day, informal performance and a café/bar. A number of other rooms will be used for education, community outreach and conferences.
A main contractor will be appointed in the next few weeks.