Training centre for university students able to double capacity due to funding boost from skills body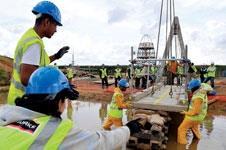 The industry's only dedicated site-based training centre for university students is to double capacity after winning funding from skills body CITB.
The Constructionarium, based on a 14-acre site at the National Construction College at Bircham Newton, Norfolk, runs working field courses where aspiring civil engineers and construction managers build scaled-down versions of buildings, bridges, dams and other projects.
It was founded in 2003 by contractor John Doyle, Expedition Engineering, and Imperial College London, and has been given a boost on its 10-year anniversary, after the CITB board agreed to grant it £2.5m in funding over the next three years.
Stef Stefanou, chairman of Constructionarium and former chair of Doyle Group, said it was "the best present we could have got".
Currently, the centre has the capacity to accommodate groups of students from two universities at any one time and trains around 900 undergraduates a year.
Stefanou said: "To date some 11,000 undergraduates have participated from 20 universities including two universities from Italy and a number from Russia and China.
"The funds will enable us to accommodate four universities on the same week and thus increase the total number of universities participating.
"With the increased support, Constructionarium will be able to offer hands-on experience to students in further education and University Training Colleges.
"We are grateful the CITB board approved the investment and thankful for the continued support."
Chairman of CITB James Wates said: "CITB has always been a strong supporter of the Constructionarium, providing the land at Bircham as well as some of the revenue funding."