Report follows criticism that the training body is not transparent enough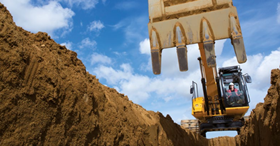 The CITB has outlined out how some of the money it collects through its annual levy has been spent, a week after Balfour Beatty boss Leo Quinn said the organisation did not provide enough information on its grants and issued a call for it to be scrapped.
As the clamour for the training body to be reformed from housebuilders to contractors intensified last week, the CITB – which recently named Sarah Beale as its new chief executive – said in its report that 303 projects in England, Scotland and Wales had benefitted from funding of £17.8m between September 2015 and December 2016.
Micro and small firms made up the majority (231) of those receiving funds, followed by construction federations (38), large employers (18), CITB-funded training groups (9), medium-sized employers (6) and one trade union.
Steve Radley, the CITB's director of policy, said: "This report shares key findings on how levy payers' money is having a positive impact on our industry, including on many small firms.
"It shows that CITB funding helps people gain qualifications; reduce skills gaps and improves staff morale. For employers it has encouraged innovation and facilitated new partnerships, as well as improving perceptions of construction as a career.
"We will continue to work closely with our industry to ensure that funding is targeted at its priorities and delivers the outcomes it needs."
Meanwhile the future of the CITB is the subject of intense speculation, with a number of groups and individuals levying criticism and questioning its fitness for purpose.
The Construction Leadership Council weighed in, last week calling for the CITB to be "much more strategic, industry-led and accountable", while Balfour's Quinn went further and raised questions about its future, arguing that the lack of detail around what happened to the £200m raised annually through its levy was "truly concerning".
Trade union Unite also took aim at the training body, with assistant general secretary Gail Cartmail warning that while the industry would be worse off without it but that "it needs to be radically reformed if it is going to be able to cope with the challenges that the industry faces in the coming years".
Continued government support for the CITB also hinges on its ability to enact reforms that will satisfy stakeholders across the board.
The CITB is facing its triennial consensus, where 14 trade bodies and 6,000 non-affiliated construction companies vote on whether the organisation can continue collecting the training levy from them. Voting ends on 29 September, with an announcement on the outcome in November.
In a column this week for Building, CITB chairman James Wates will say the government's "helpful" confirmation of its support for the training body following the publication of last autumn's Farmer Review should be noted by the wider industry and adds: "They encouraged the industry to support the continuation of the levy in the upcoming consensus process."