England's major regional urban centres given greater access to central government funding to drive infrastructure work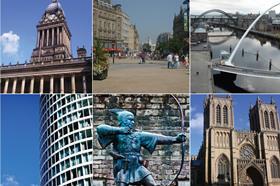 Six of England's largest cities have agreed new deals with Whitehall that will see town halls given greater control over central government spending in order to direct capital investment where it is most needed.
The six so-called city deals, announced by deputy prime minister Nick Clegg, aim to give the urban regions around Bristol, Nottingham, Newcastle, Sheffield, Birmingham and Leeds greater powers to pool disparate funding streams into single capital investment pots (see below).
These Economic Investment Funds will also enable the city regions to pool business rates revenue across their local authority areas, eventually leading to the creation of revolving investment funds to support infrastructure and business.
The bespoke deals, which follow earlier agreement with Greater Manchester and Liverpool, will also give the cities new tax increment financing powers – a long-called for financial tool that enables the cities to borrow against future growth in business rates within a designated area and use the finance to invest in urban development and infrastructure.
These deals give cities the power to stimulate private sector growth

Rhian Kelly, CBI director
The deals also see the creation of joint investment programmes aimed at bringing together all public assets across the area to rationalise the public estate and unlock land for development.
Other elements include more powers over transport, including local and regional rail services, and new funding models to boost skills and reduce unemployment.
Sheffield and Leeds city regions are set to follow the Greater Manchester city region in putting in place a combined authority, which will bring the constituent councils of each city region together into a statutory governing body, enabling them to pool sovereignty and resources.
Rhian Kelly, CBI director for business environment, said: "These deals will give our cities real powers and resources which, if implemented well, will help them to stimulate private sector growth.
"Giving cities greater financial freedom will help them encourage investment in critical infrastructure, particularly through tax increment financing schemes. The ability to pool disparate funding streams and take control of transport budgets will enable them to take a more strategic view and help to align resources with local priorities."
But the deals fall short of that agreed by Greater Manchester, unveiled in the Budget in March, which will see the city region share in some of the national tax growth – not just business rates - generated by economic development, through an "earn back" financial mechanism agreed with the Treasury.
Tony Travers, director of the Greater London Group at the London School of Economics, said changes brought about through the deals were "limited" and that "proper decentralisation within England remains a long way off".
"Ministers and civil servants are most unwilling to cede power, however convincing the case," he added.

Manchester
Agreed in March the deal involves an "earn back" finance mechanism which will see the city region invest £1.2bn upfront in infrastructure and claw back up to £30m a year from the national tax pot
Investment will be prioritised across the city region, with a pipeline of projects to be identified that could include the Metrolink extension to Trafford Park
Liverpool
Agreed in February after the council opted to adopt a directly elected mayor
The deal will see the creation of a single investment programme of public and private funds, initially worth £130m, but with the potential to grow to £500m-£1bn, as well as new enterprise zones and a single investment board to bring together all of the city's assets such as land, commercial and residential buildings
Leeds
Create a £1bn transport fund to bring together funding streams and utilise tax increment financing
Create a £400m capital investment fund by bringing together public and private funding and pooling business rates across the city region
Develop a city region wide programme to roll out the Green Deal
Five West Yorkshire councils - Leeds, Bradford, Calderdale, Wakefield and Kirklees - to form a combined authority
Nottingham
Create an investment package, incorporating tax increment financing powers, to develop the city's Creative Quarter. It will aim to attract a cluster of high-tech businesses and entrepreneurs, using £20m of technology grants and a £45m venture capital fund Birmingham
A new £1.5bn investment fund will pool separate funding streams and leverage in private finance to invest in urban development, infrastructure and SMEs
A new Housing and Economic Growth board focused on bringing more public land to market more quickly in order to meet demand for housing
Roll out a city region-wide Green Deal investment programme
Sheffield
A £700m plus Sheffield City Region Investment Fund aimed at pooling funding streams into a single capital fund to be invested in infrastructure
New powers to fund a £33m city centre regeneration through tax increment financing
Move to a combined authority, which will provide a statutory governance model across the eight councils that comprise the city region
Bristol
Create a £1bn economic development fund, by pooling various funding streams, including 100% of growth in business rates in designated enterprise areas over next 25 years
Investment to be focused on enterprise areas, including the Temple Quarter
Creation of a Bristol Public Property Board that will manage around £1bn of council and other public assets Newcastle
Create an accelerated development zone for Newcastle & Gateshead, with business rates ring-fenced in four key growth sites and, through tax increment financing powers, re-invested in a £92m infrastructure programme
Establish city as low carbon "pioneer" and secure £500m private sector investment into marine and offshore renewable energy