Members to incude Peel Holdings director Robert Hough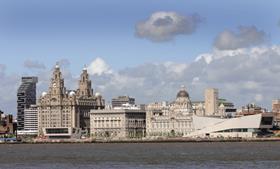 Liverpool's new mayor Joe Anderson has announced the board for the city's new mayoral development corporation.
The corporation – the first outside London - will draw up strategy and help the mayor deliver his pledges on building new schools and houses and attracting investment across two enterprise zones and five mayoral development zones.
Board members, who will begin meeting in September, will include Peel Holdings director Robert Hough.
Mayor Anderson said: "This is a pivotal moment for Liverpool as it is the first time we have ever had the ability to shape our own destiny in this way.
"I am delighted that we have been able to secure the services of extremely talented individuals who have a wealth of experience at the highest level in the public, private and voluntary sectors and at a local, regional and national level.
"They will play a key role in helping guide and drive forward the ambitious pledges I have made around building new schools and houses, creating jobs, attracting investment and making the city cleaner and greener."
The corporation will operate a single investment programme, using public and private finance and assets through a single capital pot negotiated through the £130 million City Deal with government.
The mayor's long term aim for it is to operate a multi-billion pound investment vehicle that will operate as a 'Bank of Liverpool'.
The board members are:
Robert Hough - Chair of the Liverpool Local Enterprise Partnership. Robert was previously Chair of the Northwest Regional Development Agency. He has been a Director of Peel Holdings since 1986 and was its Deputy Chairman from 1989 to 2009 and is now a non-executive Director of Peel Holdings. Within the Peel Holdings Group, he was also responsible for the Airports Division and was Chairman of Peel Airports and Liverpool John Lennon Airport from 1997 until 2009. He was the Chairman of the Organising Committee of the Manchester Commonwealth Games from 1995 to 1999 and then its Vice-President and also Mayor of the Games Village during the Games themselves. From 2002 to 2009, he was Chairman of New East Manchester Limited, the urban regeneration company.
Julia Unwin CBE - Chief Executive of the Joseph Rowntree Foundation. She was previously a member of the Housing Corporation Board for 10 years and a Charity Commissioner from 1998-2003. Julia was also Deputy Chair of the Food Standards Agency and worked as an independent consultant operating within government and the voluntary and corporate sectors. In that role, she focused on the development of services and in particular the governance and funding of voluntary organisations. Julia has researched and written extensively on the role, governance and funding of the voluntary sector. She studied history at the University of Liverpool and also worked for Liverpool Council for Voluntary Service from 1978-1980.
Sir Michael Bibby - Managing Director of Bibby Line Group. Sir Michael has been MD of the firm, whose headquarters are in Liverpool, since 2000. Upon graduating from Oxford University in 1984, he joined Coopers & Lybrand in London where he later qualified as a Chartered Accountant. He then spent several years at Unilever as a project accountant where he was involved in a number of acquisitions, disposals and joint venture projects.
Claire Dove MBE – Chief Executive of Blackburne House. Claire is also Chair of Social Enterprise UK, a member of the Board of Governors at Liverpool John Moores University and Liverpool Community College. She chaired the recent Liverpool Fairness Commission report commissioned by the Mayor which recommends the implementation of a living wage for local people to tackle poverty.
Liv Garfield – Chief Executive of BT Open Reach. Liv is responsible for the delivery of one of the fastest and most ambitious deployments of superfast fibre broadband in the world, overseeing delivery of fibre to two thirds of UK homes and businesses by the end of 2015. Previously she worked as BT Group Director of Strategy and Regulatory Affairs, where she oversaw the company's fibre broadband strategy and other key areas. Before joining BT in 2003, Liv worked for Accenture, the management consultancy company.
Sir Howard Newby - Vice Chancellor of the University of Liverpool. Sir Howard was previously Vice-Chancellor of the University of the West of England (UWE) in Bristol, having previously spent five years as the Chief Executive of the Higher Education Funding Council for England (HEFCE). From 1999 to 2001, Sir Howard was President of Universities UK, the UK body which represents the university sector. He was also President of the British Association for the Advancement of Science for 2001-2002.
David Wade Smith. David is a long established business figure in Liverpool. He has a broad wealth of business experience and played an instrumental role in the strategic development of independent retailer Wade Smith, culminating in its sale to Arcadia Group in 1998. He is a board member at Liverpool Chamber of Commerce was and Chair from 2005 to 2008 and served as Chair of Tourism for Merseyside at The Mersey Partnership from 2004 to 2009. He is also a co-founding member of the Board of Liverpool Vision. He served on the successful Board of the Liverpool bid team for European Capital of Culture, and has served as a Board member of TATE Liverpool and the Royal Liverpool Philharmonic Society. In 2010 he was appointed as Business Advisor to the city council's Cabinet, and more recently his business interests have included digital ticketing as well as an international role in conferences and events.